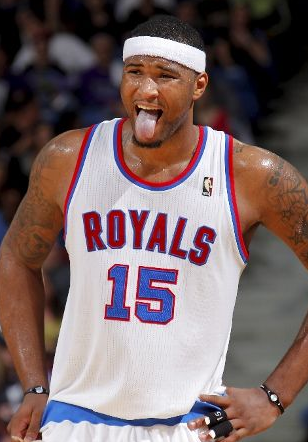 So the Sacramento Kings have been wearing their retro "Royals" uniforms every home game for the last 3 weeks, eh? I wonder if that means anything… anyways!
Hands up, who here remembers when the NBA's Cincinnati (nee Rochester) Royals relocated to Kansas City-Omaha?
Impressive.
Well, it seems history may be repeating itself in an funny sort of way. You see, when the Royals moved to Kansas City-Omaha they clearly couldn't keep the name, it was 1971 and Kansas City's latest baseball team had been using the name for two seasons now. The only logical solution? Pick a name similar to maintain the franchise history but wouldn't infringe on the rights of the Kansas City Royals. Thus, the Kansas City-Omaha Kings were born.
Fast forward 40 years, the Kings have been enjoying life in Northern California as the Sacramento Kings for the past three decades but, lacking the arena demands they crave, are now looking to relocate to Anaheim… the Los Angeles area… home of (you guessed it) the Los Angeles Kings. Funny how things like that happen.
Which leads us to the news of the day, an office said to be representing the Sacramento Kings have registered a few new names with the United States Patent and Trademark Office… the Royals may be returning to the NBA by way of the very same method in which they left.
The names registered were:
Los Angeles Royals
Anaheim Royals
Orange County Royals
And one which has to be a joke by the club…
Anaheim Royals of Southern California (yes, they seriously registered that)
With two teams already representing Los Angeles, and residents of Anaheim still somewhat feeling the pain of having their baseball club re-branded as the Los Angeles Angels of Anaheim, I think it's safe to say a relocated Sacramento Kings team would be known as the Anaheim Royals for the 2011-12 NBA season. Giddy up!