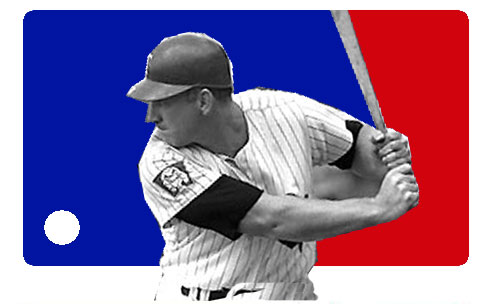 Today Harmon Killebrew died at the age of 74. A Hall-of-Famer, an MVP, 573 career home runs and the inspiration for the famous MLB logo.
That last bit is always up for debate, the official position of Major League Baseball is that the logo doesn't represent any one player, while Jerry Dior (the artist of the logo) says he was inspired by several players and can't remember who any of them were.
So what about Harmon Killebrew?  Well Harmon for years has told others he believes he's the one in the logo and went into more detail about why he knows this to be true in this 2008 interview with ESPN's Paul Lukas:
"I was in the commissioner's office one day in the late 1960s … and there was a man sitting at a table. He had a photograph of me in a hitting position, and he had one of those grease pencils that you see at a newspaper, and he was marking that thing up. I said, 'What are you doing with that?' and he said they were going to make a new Major League Baseball logo. I never thought any more about it. And then the logo came out and it did look like me."
The logo was originally used to celebrate the 100th anniversary of baseball in 1969 and worn as a uniform patch by all players in the league that season, in 1970 the logo was promoted to league primary.
Today the logo can been seen on the back of every on-field cap, jersey, jacket, helmet, toque and turtleneck.  Major League Baseball event logos such as the World Series, All-Star Game, Playoffs, Opening Day, the Draft feature the logo prominently.  Go to any school, concert, mall or sporting event in the United States or Canada (and probably most of rest of the world) and you're bound to find this logo being worn by someone.
While Mr. Harmon Killebrew may be gone, his legacy, his inspiration and his image can be seen everywhere and it will not be going away anytime soon.  RIP Killer.