NHL Draft Day has arrived and with that we get our first glimpse of several "new" NHL jerseys for the upcoming season.
Story of the day, of course, Winnipeg! The Winnipeg Jets will be the new name as announced during the draft and subsequently via a press release.  Along with making their draft pick, the club showed off their new uniforms, which are clearly a gift to Gary Bettman for finally giving the city another team: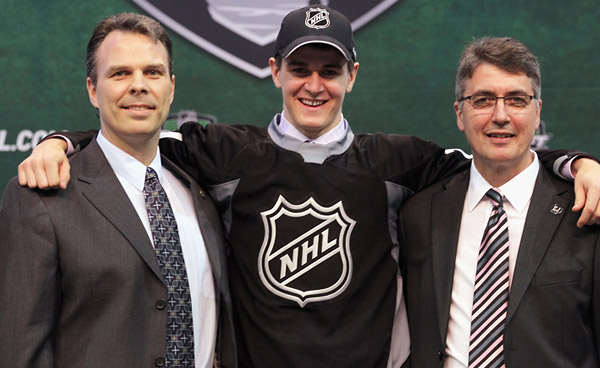 But seriously!  TNSE has also announced that the team will not be using the old Winnipeg Jets logos as well as their old colour scheme, it's also being reported that this new colour scheme won't be too different from the old Jets, perhaps a navy blue, red and silver? Just a theory.  New logo and jerseys to be unveiled shortly.
The Edmonton Oilers unveiled their new road jerseys while introducing their first overall pick, throwin' back to the 1980s with this number which now matches the retro home jersey they've been sporting for the past few seasons:
The Florida Panthers are joining in on the throwback party with their new home jerseys, the design is new but the colours are a return to their early years – the red looks great with that jersey and it's so nice to see the piping that was on the old home jerseys has vanished!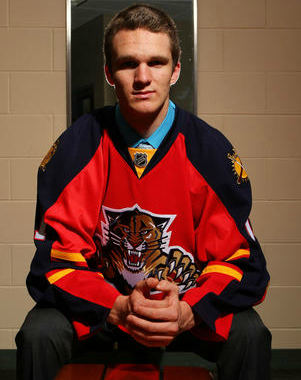 The Los Angeles Kings aren't drafting in the first round but they still tweeted a photo of their new road jerseys, which is black, silver and white much like their look in the 80s and 90s, noticing a theme here?
The Nashville Predators had their jerseys possibly leaked last night, well, tonight we saw that same jersey (at least the back of it) on the Draft floor, guitar strings and all: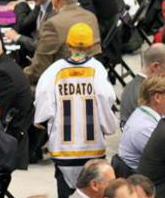 The Tampa Bay Lightning are also wearing new uniforms next year, as you can see here, but that's hardly news as the team unveiled these new jerseys back in January:
We got a look at a couple of jersey patches as well, first the New York Islanders 40th Anniversary worn on the shoulders of their jerseys this season:
And the Ottawa Senators 2012 All-Star Game patch worn on the front of theirs:
Oh and some players got drafted or something… look at all those new jerseys!!