Good morning everyone!  Here's what made news around the logo world in the last couple of days:
Starting things off with the NCAA where the ASU Sun Devils showed off a picture of their new "bold" football jerseys, more emphasis on the pitchfork and a little more black.
The Kentucky Wildcats are also expected to unveil new Nike football uniforms at a press conference today, the helmet is reportedly staying the same.
Penn State has tweeted photos of their tweaked football uniforms for their upcoming season this Fall, a plain blue jersey with plain white numbers – nothing more.
The battle over the University of North Dakota's nickname continues, here's a recap of who said what when and how it may impact how this all plays out.
One quick baseball hit, tomorrow is Canada Day and the Toronto Blue Jays are at home this year which means they'll be wearing red uniforms – and for the first time I can remember they've released pictures beforehand:
The jersey is almost the same as the one they wore in 2009, what we have different is the inclusion of that bit of white running up the sides of the uniform.  As usual, player names will be replaced with CANADA on the back (as you can see here).  They will be wearing the standard "Stars and Stripes" cap which you can take a look at or purchase here.
Horrible news for NFL uniform fans as Nike is planning on making "agressive" changes to several team uniforms in the coming years, "We're going to be aggressive," Nike Brand President Charlie Denson said. "Some teams are willing to go further than others."  Consider this the NHL Reebok Edge re-design of the football world.
Sticking around the NFL, the Buffalo Bills blog points out how some players were involved with the design of the new uniforms, while the team has also said that overall fan reaction to the new look has been very positive – as it should be, their new set is solid.
NFL.com has put up a slideshow of the worst NFL football uniforms ever, do you agree?
In soccer, a lot of negative reaction to the new US Women's soccer team uniforms, I really can't agree with the criticism – they're not anything special but we've certainly seen worse from soccer.  A gallery of US Women's team uniforms can be seen here.
Arsenal has unveiled their new away kits for next season, they look like "jockey clothes" describes player Andrei Arshavin.
South African club, the Kaizer Chiefs have unveiled some very interesting new soccer uniforms, including this black and yellow striped kit — yes Nike had it's hand in this one.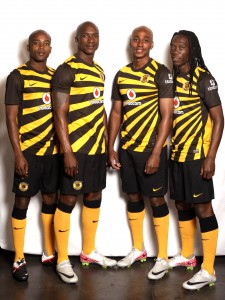 Continuing with our international news, Sanzar unveiled the new Super Rugby Trophy, which will be presented to the inaugural Super Rugby champions on July 9th.
And finally in Cricket news, I can't find a picture but Fiji has unveiled new national team uniforms… I just hope they're as colourful as their flag.
Hope everyone out there has a wonderful weekend, if you're Canadian like me – Happy Canada Day, if you're American, Happy 4th of July, and if you're anywhere else in the world just keep on enjoying life and light off a firework or two for us.