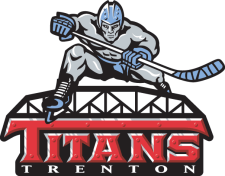 Today the New Jersey Devils announced their ECHL affiliate in Trenton, the Trenton Devils would be suspending operations for the 2011-12 season… just 2 weeks after "ECHL, Inc." registered "Trenton Titans" as a trademark with the USPTO (serial number 85351923, I'll wait here while you look it up)
Back on this blog on June 26th I said the following:
Anyone remember the Trenton Titans? They used to play in the ECHL? Became the Trenton Devils? Anyways, out of nowhere the ECHL registered the Trenton Titans name again on June 21, 2011 – no logo in the registration but it was described as such, "The mark consists of a hockey player wearing a helmet and carrying a hockey stick leaping over a bridge over the words "TRENTON" and "TITANS"."

Either the ECHL is getting in the business of selling retro merchandise or the Devils are becoming the Titans once again!
Is it too early for the folks in Trenton to start celebrating the return of their Titans?