With Josh Willingham's ninth-inning ground out to Brandon Inge last night the Detroit Tigers clinched their first division championship in 25 long seasons (and they shouldn't have even won that AL East title in 1987 but that's another rant for another day)… more importantly it gave us our first glimpse at Major League Baseball's 2011 championship merchandise.
After the game the Detroit Tigers were sporting these fabulous Central Division Championship t-shirts complete with retro split-lettering and a depiction of the entranceway into Comerica Park: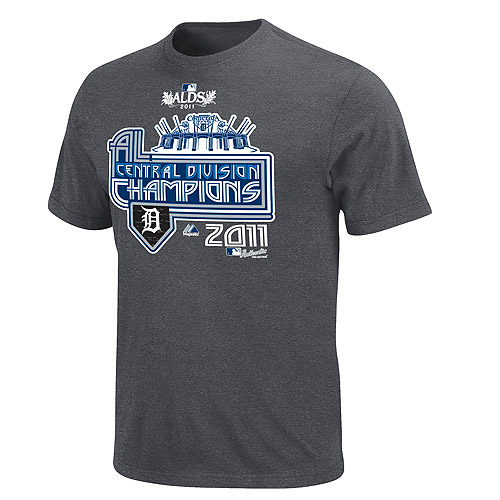 Major League Baseball has produced versions for the teams that have a shot to win the other divisions (plus they made a Boston Red Sox one just for kicks).  Each version features the main entranceway to that team's home ballpark, it looks great and it's a step toward making championship shirts more than just "slap the logo on the shirt" – I'm looking at you NHL.
Here's the other teams:
What's interesting is that there wasn't one for the Milwaukee Brewers or any other NL Central team… I'm sure we'll be able to locate theirs in the coming days.
The Tigers were also wearing their championship caps which are just generic "We made the playoffs!" rather than celebrating a particular title – perhaps it's easier to produce these across the board rather than make a Division version and a Wild-Card version for all the possibilities.
Click on any of the caps below to see a full-sized version:
The more I look at those 2011 MLB Playoffs caps the more I think about the old Tampa Bay Devil Rays logo…