The New York Islanders unveiled what was leaked long ago, their new black third jerseys, tonight at a fan event on Long Island.
The new third jersey is the same as the image which was leaked, black with grey shoulders with ISLANDERS arched across the front of the jersey in orange with the player number beneath.  The Islanders primary logo will be worn as a patch on each shoulder.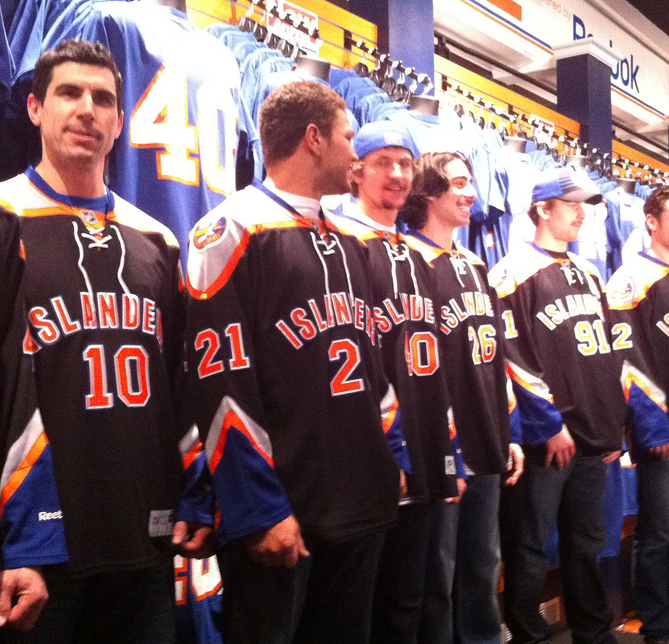 This is the first time the New York Islanders have added black to their colour scheme having been predominantly blue and orange for the majority of their franchise history.  They infamously changed their colour scheme to navy blue, teal and orange during the second half of the 1990s before reverting to their traditional look just a few seasons later.
In the early 2000s the Islanders added an orange alternate jersey which lasted four seasons.
Ironically the New York Islanders are officially adding black to their colour scheme on the very same day that the New York Mets, the other blue and orange team in the area, announced they were eliminating almost all traces of the colour.
The new Islanders third jersey will be worn for the first time a week from tonight, Wednesday, November 23rd against the Philadelphia Flyers.  They will then be worn two nights later in honour of "Black Friday" against the New Jersey Devils.
It will be worn twelve times between next Wednesday and the end of the season, the complete schedule is listed below:
November 23rd vs. Philadelphia Flyers
November 25th vs. New Jersey Devils
December 10th vs. Pittsburgh Penguins
December 23rd vs. Toronto Maple Leafs
January 12th vs. Philadelphia Flyers
January 21st vs. Carolina Hurricanes
February 4th vs. Buffalo Sabres
February 20th vs. Ottawa Senators
March 4th vs. New Jersey Devils
March 13th vs. Washington Capitals
March 31st vs. Boston Bruins
April 5th vs. Winnipeg Jets