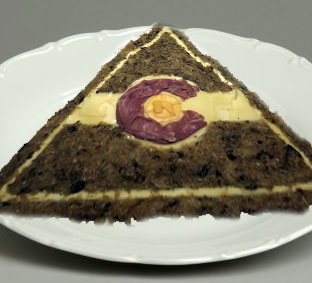 The corny titles must end!
I don't know why I find amusement in making these awful puns. I know there is not one person on earth who reads them and thinks, "Oh wow, that's clever/funny/witty!" No one. At all. I guess the best way that I can describe it is that it's like sniffing your own farts.
Which reminds me, my faithful, slobbering dog, Coffey cut the cheese while he patiently waited for some table scraps to fall his way when I made this latest Foogos for SportsLogos.Net piece, a Colorado Rockies logo. It was disgusting. (The dog's beef, not the art… well, maybe the art.)
I had been wracking my brain all week to think of something to make. I wanted to go with the Maine Mariners, an old AHL team, because my first piece of hockey memorabilia was a Mariners puck, which I am smelling right now. Galvanized rubber. Mmm… But I never got around to making an adequate sketch, so that's on hold. Not to mention that I hadn't gone food shopping this week with any logos in mind, so flash forward to 10:30PM Sunday night and I'm at the mercy of the pantry and the leftovers.
I passed on the mixed grilled veggies, spaghetti, meatballs, and fresh mozzarella. I thought about using walnuts and craisins, or the obscene amounts of candy corn and marshmallows stowed away in case a Halloween Armageddon catches us by surprise. Ultimately, cold cuts won out.
Corned beef (red)
American cheese (yellow)
Swiss cheese (white)
I went through my sketches to see if anything matched. Too bad sportslogos.net isn't comicbooklogos.net, because his could have easily become a Wonder Woman logo to add to that gallery. Anyhoo… Flames logo? Not enough corned beef. St. Louis Blues? Ugh. No. Colorado Rockies? Hmm… Winnah.
Once again, blue is my bane, but I faked it with a sauerkraut/mushroom combination. Stuff that mixture into some dough, pinch it like a 1st grade sculpting project, et voila. Pierogi. The apex of Polish delicacies. And now it will form the apex of the Rockies' mountain. And the body. And the base.
For a helter skelter 11th hour piece with no food planning prior to its inception, I dig this one. I mean, I think it's good enough to add to my NHL gallery, but I might do this one again sometime. The shapes are easy enough to to recreate.
Now that this is out of the way, I anticipate a long Monday of dealing with Coffey and his gas. At least today the mutt will have an excuse.