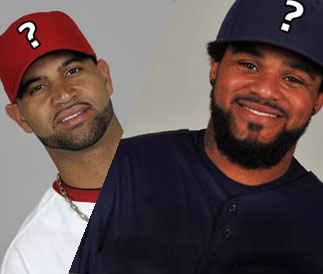 Baseball's annual winter meetings are in full swing and as you've seen around here, the rumour mill is buzzing with who's going where and for how much.
The two biggest names out there responsible for most of the hoopla are Albert Pujols and Prince Fielder, both first basemen who can hit for power and now looking to turn their talents into a multi-year, multi-million dollar payday.
Prince has been linked to several different teams on-and-off throughout this process with Miami, Toronto, and Chicago mentioned consistently along with his former team in Milwaukee.  While Albert, similarly has been paired up with either Miami, Chicago or back where he's always played in St. Louis.
When the amount of years and dollars being thrown about is this high you'd have to know there are other factors at play here when a player ultimately decides where he ends up wanting to suit up.  Probability of winning, management, location, are all valid concerns… but what about how you're going to look in the uniform?
Well, that's where I like to help.  Mr. Fielder, Mr. Pujols, I know you have a difficult decision coming up, so I ask you to please take a look at yourself in the uniforms of your suitors, which I have carefully incorporated onto the front of your 2012 Topps baseball cards, before making anything final.
To see the rest of this article, including the shots of Prince and Albert in their potential new uniforms, click here to see it over at The Score's Getting Blanked blog