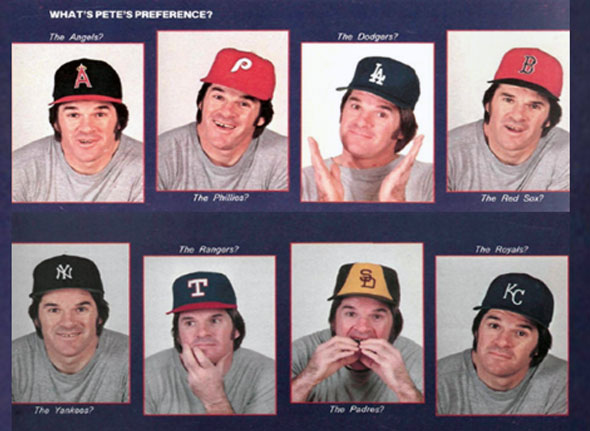 Yup, that's Pete Rose wearing the caps of eight different Major League clubs, and most baseball fans would know that aside from the Philadelphia Phillies, Pete never played a game for any of those teams.
No, he didn't lose a bet.
The above photo is from a Sports Illustrated article circa 1979 (props to Twitter user @LobShots for the graphic) when Pete Rose was deciding which club he'd like to sign with, giving the caps of his top eight preferences a try… I must say he looks the happiest as a Yankee, a shame they couldn't get him in pinstripes for the photo – it would have suited him a little better.
Last week I took a look at some of the greatest players in Major League Baseball history wearing the "wrong" uniform, Babe Ruth in a Dodgers uniform, Yogi Berra with the Astros, and so on.  Because I only got a chance to feature a small fraction of the players I wanted to, we're spillin the wrong uniform fun over into a second week, let's get at it!