Logo Links is a quick look at what's taken place in the logo and uniform world over the past 24-hours, here are your logo links for Tuesday, March 13th, 2012:
Buffalo Sabres "Buffaslug" Prototype Designs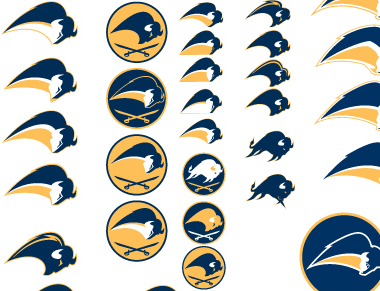 Kristopher Bazen, designer of the Buffalo Sabres infamous "buffaslug" logo has posted his other Buffalo Sabres logo designs (click on image to see all his designs) on our SportsLogos.Net Message Boards that were part of the process of the designing of the Sabres logo.
When asked if he posted this as a response to the critics of his logo Bazen responded with, "I'm cool with the criticism, just wanted to show there's more to the process than meets the eye."
Thanks to Kristopher for giving us all a peek behind the design curtain, always an extremely interesting thing for fans of logos and uniforms to see.
Houston Astros New Uniforms Update
It seems like the Houston Astros have been dominating the uniform news for the past week, but they have all sorts of things going on at the moment.  Shortly after their battle with Major League Baseball over the Colt .45s throwbacks wrapped up, Astros owner Jim Crane gave an update on the process for designing the new team uniforms for the 2013 season.
The team is still evaluating various designs and ideas for the new uniforms, the first focus groups are scheduled for next week.  Houston has until May 1st to submit their changes to their logo or uniforms to Major League Baseball to meet the deadline for 2013.
New NHL Stanley Cup marketing slogan
According to a report from Sports Business Daily, the National Hockey League will be rolling out their new Stanley Cup playoff marketing slogan in the next week.  The extremely popular "History Will Be Made", itself will soon be history, to be replaced by "Because It's the Cup".
While I'm a fan of the new marketing slogan I think this change wasn't necessary, at least not now.  The old slogan was great and fans really enjoyed the commercials and promotions that accompanied it – when fans actually look forward to an advertisement you've really got something there.
We'll have to wait until playoff time to see if this turns out to be the NHL trying to fix something that wasn't broken or the right move.
No change to Packers Uniform
The Green Bay Packers won't be changing their colours or their uniform design when the new Nike uniforms are unveiled on April 3rd.  It should be noted that the source of this information, according to the Milwaukee-Wisconsin Journal Sentinal, is "someone who hasn't seen the Packers' new uniforms but is going on what basic knowledge on the switch is around the league."
So take that for what it's worth.
Fort Wayne Komets debut new logo on letter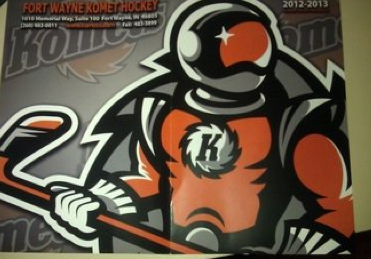 The Central Hockey League's Fort Wayne Komets sent out a season-ticket renewal letter featuring an interesting new logo.  According to team president Michael Franke, in a comment to the Fort Wayne Journal Gazette, the logo is not a new primary logo just a "cool new logo" they had sitting around the office and decided to use somewhere.
This doesn't mean it will never be the team's primary logo or appear on a uniform; in the past we've seen get promoted based on fan response.
Toronto Star – Maple Leafs Winter Classic Contest Winner Selected
The Toronto Star has selected their winning entry in their contest to design a Toronto Maple Leafs Winter Classic uniform, thankfully this has absolutely no bearing on what the Leafs will actually wear in next season's Winter Classic… I'll just remind readers that this was the WINNING entry out of hundreds of submissions.
Makes me wonder if we should have a contest here to show 'em how it's done… what does everyone think?