Okay, as you know – have known for some time – Nike is taking a run at redesigning NFL uniforms.
With such impressive words as 'flywire technology' and 'hyperstrong compression', it's impre…no, not really. Since I won't be wearing them (imagine that) I just care how they'll LOOK.
(There's no way to make a uniform look sleek when one is the possessor of such an incredibly rumpled body as mine…)
The NFL allows teams to change their uniforms every five years or so. Usually, one would see something like some black added (en masse during the 1990s) or an extra stripe here or there. On occasion, we're treated to something meaningful such as a meaner mascot or a return to 'home' colors, but this is the first time that such a sweeping league-wide redesign has been dumped in our laps. Relax, Browns fans – you know darn well that your organization, along with Chicago, Indy, Green Bay and a few other classics, will stick to "if it ain't broke…"
There weren't the wide-scale design changes that every Chicken Little (okay, me too) were fearing (see photos of all the uniforms here); some musings on some of the more interesting (to we logogeeks, anyways) changes: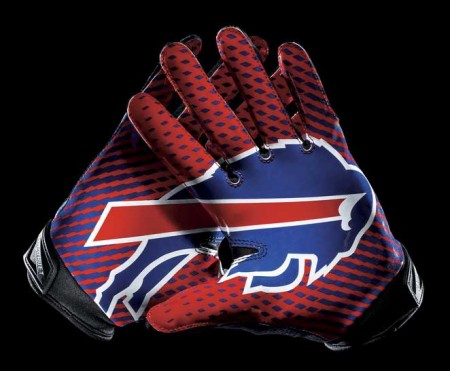 The coolest change brings the team logo onto the palm of players' gloves; when held together and aloft, the team logo materializes. Innovative. I like it. TD celebrations will be sure to feature these neat-o mitts prominently, and I like team-oriented celebrations.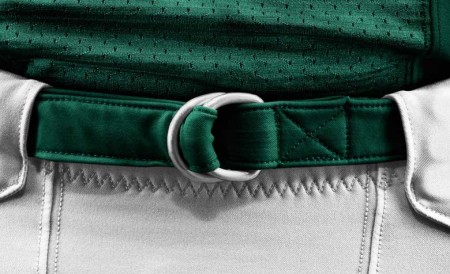 The belts have the same old look, but the locking D-ring is now made of aircraft-grade aluminum (lighter but stronger – I had one of the old ones break in high school, an embarrassing story that I will spare you – you're welcome) and the belts, as in the rest of the uniform, are now lighter.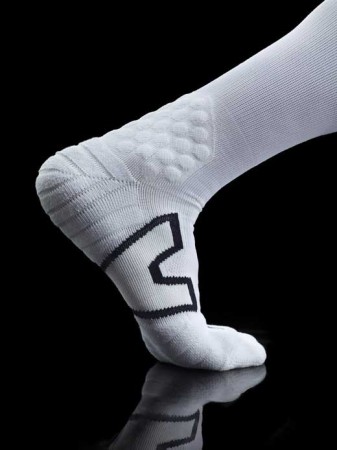 Have you seen the socks? Holy crow, these things must be a pain to make; arch support, zone cushioning, breathable…I might go buy a couple of dozen of these before anything else. (What? My feet sweat.)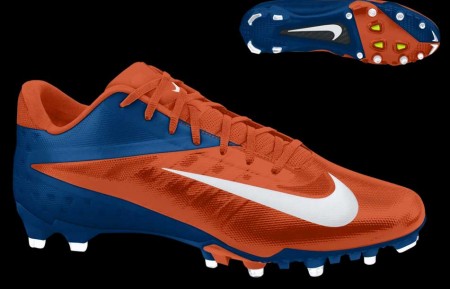 The shoes…I have to say, I'm not impressed. It's a bit cheesy, campy, whatever. Check 'em – https://www.facebook.com/usnikefootball – about halfway down Nike's timeline.
The Carolina Panthers say they did a redesign to make the Panther look meaner. Okay, up close, we can all see the changes…smaller mouth, no outline around the head…but honestly, it's not eye-popping; I don't think you'll notice the dif on TV. (I had to ask, too…why's the new Panther looking backwards…?!?)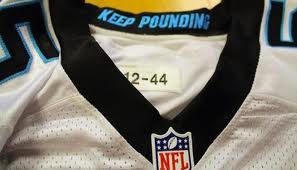 Positively, however, the Panthers have honored one of my All-Time favourites, linebacker Sam Mills, with the words "KEEP POUNDING" on the inside collar, presumably as inspiration to current players. For those who might not remember, "Keep Pounding" was Mills' speech to the Panther locker room after they upset Dallas in 2004. Mills died of cancer the next season, so this is a beautiful tribute, one that fans will be able to proudly show off.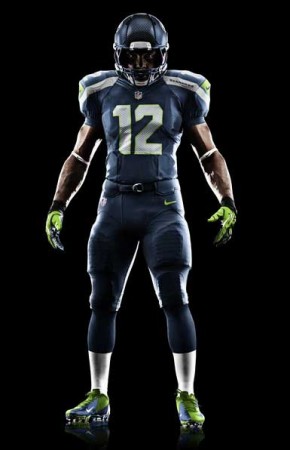 The Seahawks were the most innovative, with some extra dashes of that neon/lime green and a swoop (well, it IS Nike) down and around the shoulderpads with the team name incorporated. The coolest part, by far, was the update of the 'PooHawks logo – it looks MEAN, dude. I actually like it now. The Hawks also added a subtle but noticeable series of "wings" on both the helmet and uniform itself; the wings neatly blend a Native American look and provides a "thermal regulation zone", according to Nike creative director Todd Van Horne.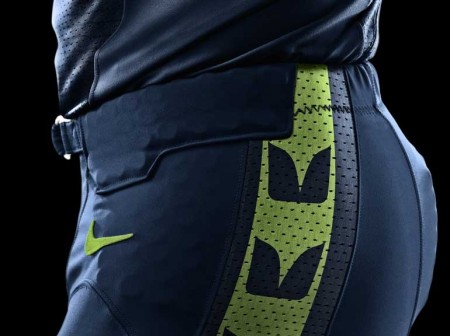 (By the way, did you count the wings on the pants? There are twelve – a solid nod to the fans, whom the Seahawks consider to be – and market as – the team's "twelfth man". A tremendous use of the symbolic – well done.)
The Jacksonville Jaguars, apparently victims of the five-year redesign rule, will wear teal for the last time (as primary unis) this year; black will be the primary color, starting next year. I think I'm going to like these, as long as they don't look too Saints-esque. (Look, Ma, new word…)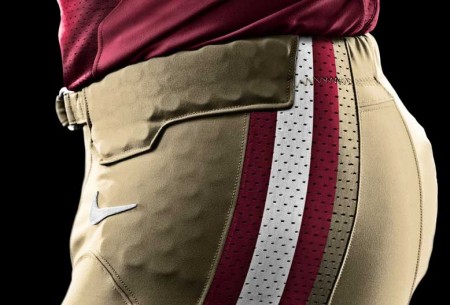 Teams like the 49ers, who previously looked a little gold-lame (or 'lame', literal pronunciation, if you like), have toned down the foil pants. They're more matte now, which makes them look a little more classy. No, I don't spend a lot of time looking at players' backsides. You just couldn't miss the old shiny pants. Look, that's my story, and I'm sticking to it, okay?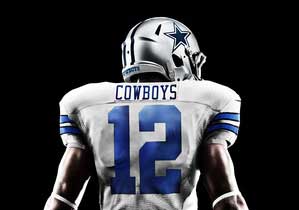 I'm mildly annoyed that Mighty Nike couldn't get the Cowboys to make the blue on their star match the blue on their jerseys. It's subtle, it's nitpicky, but that's what Chris pays me for, my attention to detail…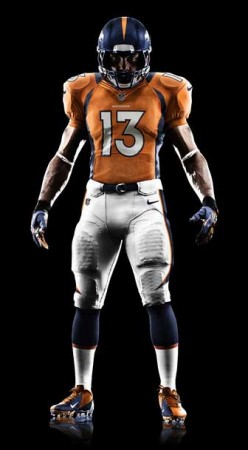 The Broncos (boo, hiss) are returning to the Orange Crush unis as primaries. Actually, as a Charger fan, I even like the Orange. Brings back memories of Elway, who even I couldn't hate.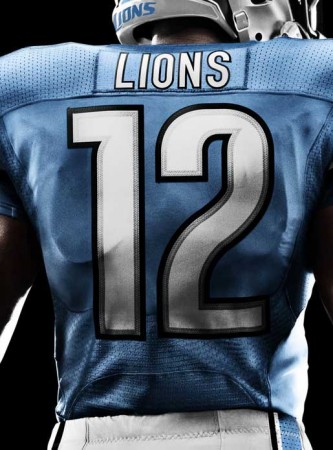 Okay, Ndakamong Suh already scares the crap out of me, even in "Honolulu Blue" or whatever the Lions call their colors. You could put dude in pink and offensive linemen would still wake up in cold sweats.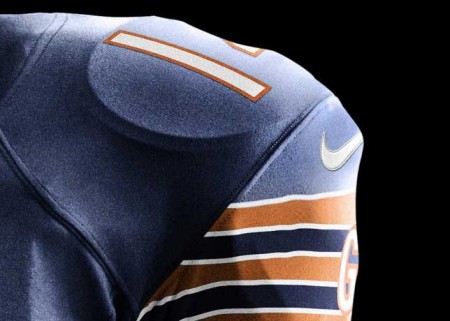 I can't find any documentation to support this, but it seems the Bears' "GSH" (on the sleeves…George S. Halas…you know, Papa Bear?!?) is a little larger.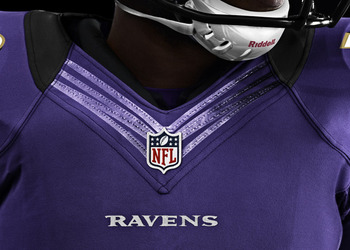 Nine NFL teams didn't like the new Nike collar design, which the manufacturer claims will help "lock down" shoulder pads; the design does look a little like a choker…decide for yourself.
Nike Brand President Charlie Denson said that he believes NFL street gear sales are going to go through the roof; "It's very fashionable now. Nobody has capitalized on it. Our ambition is to be able to capitalize on it."
It's believed that Nike will capitalize, indeed, to the tune of oh, $750m or so from this year's uniform sales alone (holy cow). I believe it. Welcome to the new NFL.
I might wear some of the new off-field stuff – check the awesomely excellent shirt below, for ex – but I'll still be keeping my old Junior Seau jersey. Chris, please note, instead of my yearly bonus, I want one of these shirts for my birthday…whaddya mean, 'what bonus'? Stop laughing.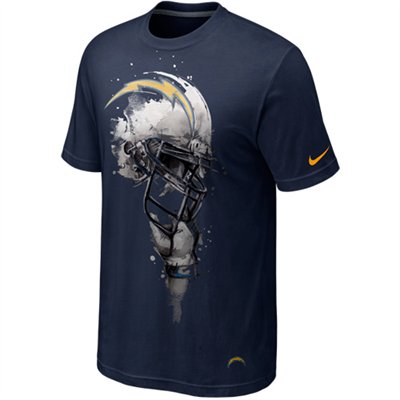 Let me know when Nike gets to the cheerleaders.