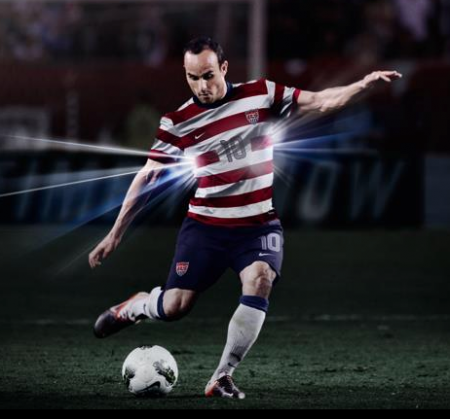 The United States Men's and Women's National Soccer Teams unveiled identical, new uniforms earlier today. This will mark the first time both the USMNT and USWNT will wear a single design, the only difference being the cut of the jersey from gender to gender.
The new uniform, designed by Nike, features alternating red and white horizontal (or "barberpole") stripes down the jersey mimicking the flag of the United States.  Oddly the jersey features only twelve of these stripes, falling a single stripe shy of the thirteen red-and-white stripes that make up the flag that inspired the design.
A very subtle and near-impossible to notice "tonal sash" design is also included, this element is intended to pay homage to the 1950 U.S. Men's National Team who defeated England in the FIFA World Cup that year.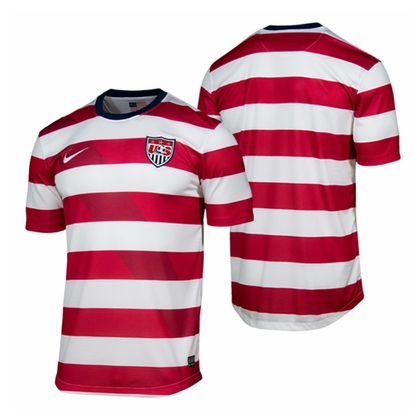 As with all things Nike the new kits will be made using Dri-FIT technology and are 23% lighter than the previous US soccer team uniforms.
The U.S. Soccer Team summarized the new uniform with this handy-dandy bullet point list:
U.S. MNT and WNT Authentic Nike Home Jersey Features
Design
Body featuring red and white stripes with a blue crew neck collar
Inside neck of the shirt includes the American Stars and Stripes flag
Jersey has tonal sash on the front
Blue shorts, and the socks are white with a blue band at the top
Comfort and Fit
Fabric is about 23 percent lighter than previous years' kits
Embedded with Dri-FIT technology
Laser-cut ventilation on the shirt
Double-knit structure and yarns to make kit 20 percent stronger than past designs
Nike Pro Combat Hyperstrong shorts feature padded waist and thigh protection
Nike Pro Combat Hypercool 2.0 top delivers ventilation and sweat-wicking fabric
Environmentally Friendly
Shorts made with 100 percent recycled polyester
Shirts made with at least 96 percent recycled polyester
Kit made using an average of 13 recycled plastic bottles
Jersey Availability Timeline
April 17: Pre-sale for U.S. Men's jersey starts online at 12:01 a.m. ET
April 26: Orders will start being shipped
May 1: New jersey will be available for purchase in stores
July 1: U.S. Women's jersey will be available
The new uniforms will be worn for the first time on May 26th when the US Men's team takes on Scotland in Jacksonville, Florida.  The women will debut their jerseys the following night in a match against China in Chester, Pennsylvania.