Rumors on the internet are like grains of sand on a beach, but when they have to do with sports uniforms, we track them down. There has been substantial buzz about the Illinois football team potentially having new uniforms in 2012 or possibly the year after.
One anonymous report has new coach Tim Beckman commissioning a design of Nike to shop to higher-ups within his school for approval. These uniforms have been described, and a photoshopper put together some mockups of how they might look:
While obviously photoshop mockups, these may in fact be similar to a redesign Illinois is looking into. Several of the design elements look consistent with the Illini style guide.
Also floating out on an Illini recruit's Facebook page were photos of a new set of helmet designs:
These look like genuine photos from the Illini equipment room. The design checks out, as the Illinois script is lifted directly from the school's basketball jerseys.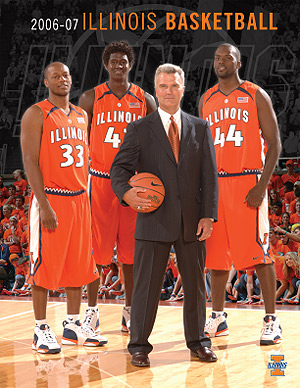 In a twitter post after a radio interview with head coach Tim Beckman, Jeremy Werner confirms that the blue helmet is going to appear this year, but that the coach denies new uniforms are coming in 2012 as a while.
According to Illinois SID Derek Neal, the helmets picture is one being distributed to recruits to get them excited about potential new looks. "While our coaches have been displaying those for recruits, those are just options we've been exploring for new helmets," Neal said. "No decisions have been made yet on helmet, uniform changes, or if there will even be a change."
OPINION:
I'd bet these mockups, or an original of a similar style are on a Nike designer's desk, and they may appear, in some version next year. Stay tuned and keep up with these mocks and see how similar the end result of new uniforms ends up being.
Would this be an upgrade? Do you think this is a legit redesign, being considered by the school, or more ramblings of an admittedly talented photoshop expert working alone? Or do these resemble a design being asked for by the Illini?
EDIT: (5/23/2012) As reader "Eric" pointed out, the uniform design sheets are on the table. Since "enhance" only works in the movies, I've enlarged the image to see if there are any hints or details available.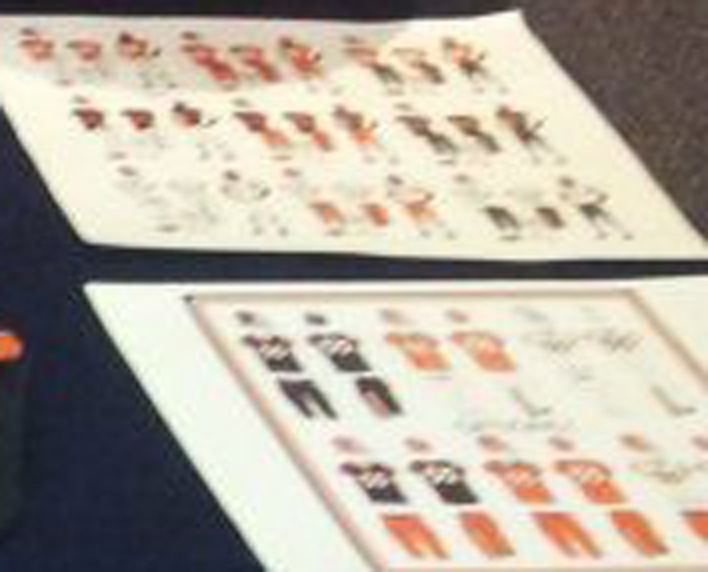 These sheets definitely show navy helmets and arguably white ones. The top sheet look like it has far more interesting designs, perhaps with retro jerseys or more ambitious designs.
Via illinoisloyalty.com There are some photos of a white helmet that also feature the diamond pattern.
Requests for comment to Illinois AD Mike Thomas have not yet been answered.
EDIT: (5/24/2012) Thanks again to our loyal readers, we have a digital version of the lower of the two design sheets pictured on the table.