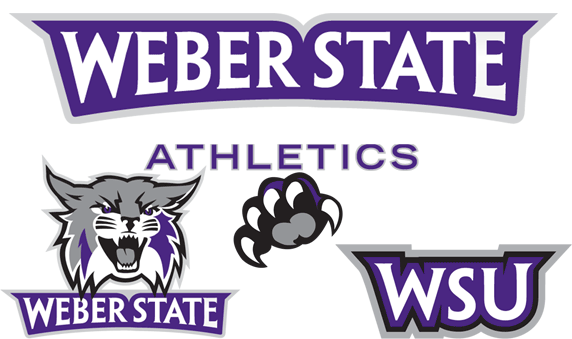 The Weber State Wildcats take a leap forward in their athletics ID, announcing a new logo, secondaries, and wordmark. Weber State athletics director Jerry Bovee said it was time for the school to update its athletic identity, and the new logos, created by WSU's University Communications department, certainly look new and crisp.

We spoke to Ron Goch, Weber State's Assistant Athletic Director, and he told us that Hillary Wallace, WSU's Art Director, was the creator of the new logo designs. She agreed to an interview, which you can read here.
Bovee has said many times that this is "just an update, not a redesign" but our eyes see these as a redesign to move the brand and marks forward, while retaining the same overall theme. The previous logo didn't look well reversed out as it was a one color design, so that was taken into account in the new design.
The logos will soon be on all athletic paraphernalia, including uniforms for all sports. Bovee also announced that the logo would soon be pervasive, painted on the floor of the events center, center of the football field, and available in the bookstore.
The talk of a new logo began when resurfacing the football field with Field Turf and talking about what to put at midfield. They spoke about the former W but couldn't come to a consensus. This started the conversation.
The conversation still isn't over regarding uniforms. They haven't yet decided what will go on the helmet, the claw logo, the cat head, or the traditional W. Stay tuned to SportsLogos.Net for all the uniform updates.
In our conversation with Paul Grua, Weber State Athletics Media Relations Director, he pointed us to the full style guide, so various permutations and versions of the logo are shown below.
The past logo used for Athletics will remain the school's logo, shown here for comparison.
OPINION: This is an upgrade all around. With such a complete style guide with various marks and versions, the university will be well on the path to a unified, consistent look.
Does this new logo resonate with you? Do you think the campus will be covered in sweatshirts and tshirts adorned with this new, more dimensional Wildcat?