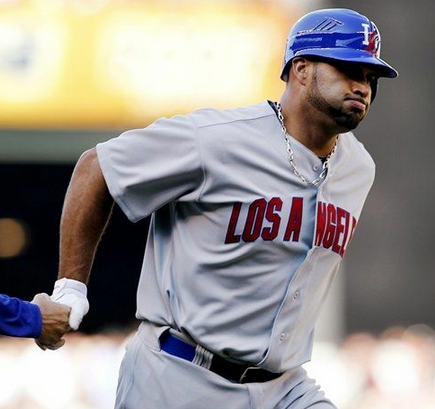 The Seattle Mariners and Los Angeles Angels of Anaheim turned the clock back to 1955 last night by wearing the uniforms of the Pacific Coast League's Seattle Rainiers and Los Angeles Angels, respectively.
Both teams went that extra mile by wearing helmets which matched their throwback uniform and several players hiked up their pants for that classic high-socks look.
No names on the backs for either team, no MLB silhouette logo on the caps or the jerseys, however the Majestic logo appeared on the sleeves of both jerseys.
The Seattle Mariners really played up the throwbackness (is that a word?) of this game by using the retro logos for both teams on their outfield scoreboard as well as changing their Twitter profile photo to that of the Rainiers cap logo.
Here's a look at the original Seattle Rainiers uniform, and a shot of the original LA Angels jersey.
See below for some photos from the game: