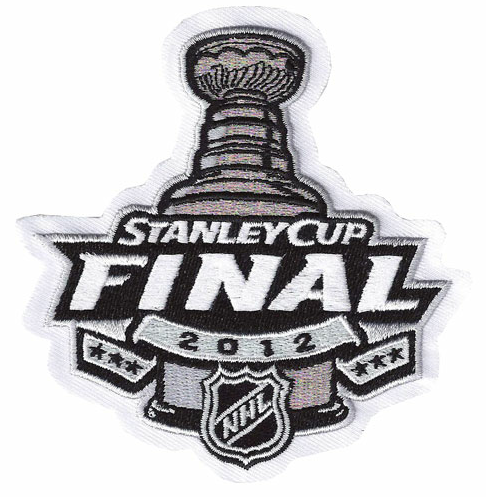 I don't know about anyone else but growing up what I looked forward to most before Game 1 of the Stanley Cup Final was seeing what the patch looked like on that team's jersey.
This can likely be attributed to a combination of several things… a love of logos and uniforms, not having many friends, and (as a Leafs fan) having nothing else to look forward to come the Stanley Cup Final.
The first year both teams wore a Stanley Cup Finals patch was for the 1989 matchup between the Calgary Flames and Montreal Canadiens when both wore the patch on their shoulders.  Beginning in 1990 teams started wearing the patch on the front of the jersey where they have every year since (with the exception of the 1994 New York Rangers).
Regardless, this curiosity come Game 1 still remains with me to this day and last night was no exception. This is especially true when for the first time ever one of the Cup Final participants has the same colour scheme as the Stanley Cup Final patch itself!
Here's some photos of the Los Angeles Kings and the New Jersey Devils sporting the 2012 Stanley Cup Final patch, the first time either team has worn this Cup Final patch design: