Two new closeup photos, one of the black/grey, another of the white, has us convinced this is the new Arkansas jersey. The evidence that Arkansas is getting new uniforms is mounting.  First there was a small, grainy photo (apparently taken by a ham sandwich) of new uniforms laid out on what was confirmed to be head coach John L. Smith's office couch. Then, last Wednesday, on the Sports Talk radio show hosted by Bo Long, AD Jeff Long said of uniforms; " I think you can expect to see something a little different this year." Additionally, football preview magazine shoots with Arkansas players had the players arrive in sweats when asked to wear jerseys. Those inquisitive were told the jerseys "were out to be cleaned." Also, the newly normal hubub of recruits claiming to have seen new jerseys.
Finally, and most convincingly, the twitter account @Reenstein11 owned by Chris Reinlein, who according to his Facebook Page, is a student at Arkansas but was not listed on the Arkansas Athletic Department roster, tweeted on June 4th, "I think the black jersey talk is finally over," with an attached picture of a "black" Arkansas jersey that looks mighty convincing.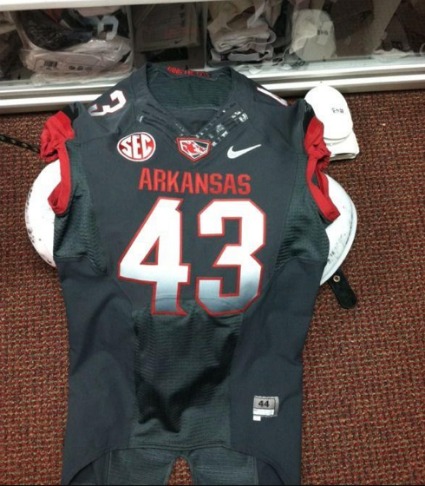 According to sources, the background is obviously the Arkansas locker room. The collar "goo" is certainly Nike work, and the patches look authentic. We can see much more clearly here that the numbers certainly have a gradient, and interestingly, the jersey itself doesn't actually seem to be black but rather a charcoal. This coincides with some rumors tossed around, that have had recruits calling them "dark grey" or "faded black."
This seems to be the final piece we need here at SportsLogos.Net to call this all-but-official.
Nice little notch in the top of the 4 and serif at the bottom. Not sure why that wouldn't have made it to the 3, nor the TV numbers, but an interesting detail nonetheless.
SportsLogos.Net thanks Josh Bramlett for some of the leads towards this story, including the original picture tweet.
So, are you joining us in calling this myth confirmed? Or do you think it could still be busted? Perhaps more importantly, do you LIKE the new jerseys?
EDIT: Thanks again to the mighty  Josh Bramlett we now have a closeup pic that has shown up on Facebook of the white jersey.