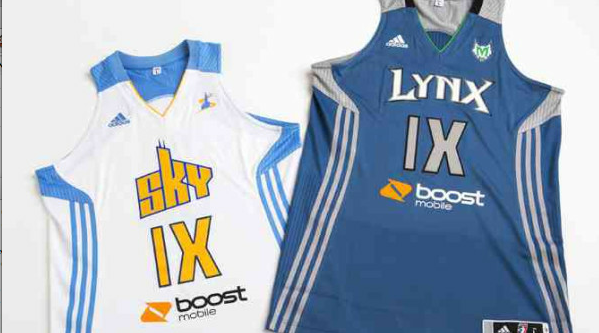 The Women's National Basketball Association will pay tribute to the 40th anniversary of Title IX by wearing special uniforms on June 23rd.
The special uniforms will largely be the same as their regular uniforms, in place of the player number on the front of the jersey will be a "IX".
These uniforms will be worn by four teams, Chicago, Minnesota, Los Angeles, and Phoenix.
From the WNBA's press release:
The league will commemorate the day by unveiling special uniforms designed by adidas to be worn by four WNBA teams on two nationally televised games on ESPN on Saturday, June 23: the Chicago Sky at Minnesota Lynx at 12:30 p.m. ET and the Los Angeles Sparks at Phoenix Mercury at 9 p.m. ET.

All uniforms for these games will feature "IX" in the front of the jerseys while player names and uniform numbers will remain the same on the back of the jerseys. In addition, commemorative adidas WNBA Title IX shirts will be available for purchase at WNBAStore.com.

"As the most successful women's sports league in the world, we truly believe the WNBA is a proof point of the impact of Title IX," said WNBA President Laurel J. Richie. "The women of the WNBA – and all of the men who enjoy the game or have daughters and sisters who dream of becoming professional athletes – are beneficiaries of this legislation. We are proud to recognize this important anniversary."
Title IX was enacted in 1972 and states, in part:
No person in the United States shall, on the basis of sex, be excluded from participation in, be denied the benefits of, or be subjected to discrimination under any education program or activity receiving Federal financial assistance
The WNBA was established as the first professional women's major sports league in 1997.