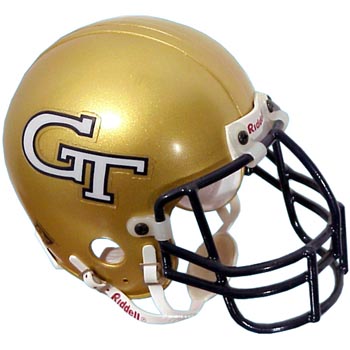 Georgia Tech has a long history of tradition in their football team. From the oldest on-campus stadium in NCAA Division I-A, to being coached by John Heisman, to 3 or 6 National Championships, depending on whose selections you count. Over the past few years, however, their uniforms have been anything but consistent. Again, for the upcoming football season, the team will be wearing a new design on the field, produced by Russell.
A trusted source familiar with the process tells SportsLogos.Net that this year, the design inspiration came from an outside source. A designer, contracted by Georgia Tech for some other work, came to the team with uniform designs that were said to "blow us [coaches, team officials] away." Our contact described them as being modern for the taste of 18 year old kids, but still paying respect to the history of the team.
A second source confirms this, having seen the original designs, and says, "they will be outstanding." The designer had the concepts on his iPad and handed it around at Georgia Tech Athletic offices. It was said to be "a little late" in the process, but "were so good" that the team approached Russell to make the uniforms for the upcoming season.
Russell, whose largest collegiate client is Georgia Tech, was asked to get these designs created as soon as possible. The plan is to go to their first game, at Virginia Tech, warm up in last year's jerseys, then, just before kickoff, change into the unannounced, unreleased, new uniforms. This gives Russell the maximum amount of time to manufacture them, and get them to the team. The design is said to be unlike anything Russell has created before, so there is a significant ramp-up needed.
When we asked Dean Buchan, Assistant Director of Athletics – Media Relations for comment, all he would verify is that the Russell contract stated a new design could be created each year, that Russell was manufacturing the uniforms which had been approved by athletic director Dan Radakovich and head coach Paul Johnson.
We are still trying to obtain any visuals possible. Both of our sources confirmed that the original designs are not being produced "exactly," rather Russell is doing a version "as quickly as they can" and might need to wait for the 2013 season to fully realize the complete design.
Here at SportsLogos.Net we are hopeful but a little concerned. Russell has not shown the design leadership in football uniforms of late, especially with Georgia Tech. Their uniforms over the past few years have been a mess of piping, striping, and failed color changes, number colors, and inconsistency.
Here are some of their uniforms over the past few years. Note the complete lack of consistency or theme.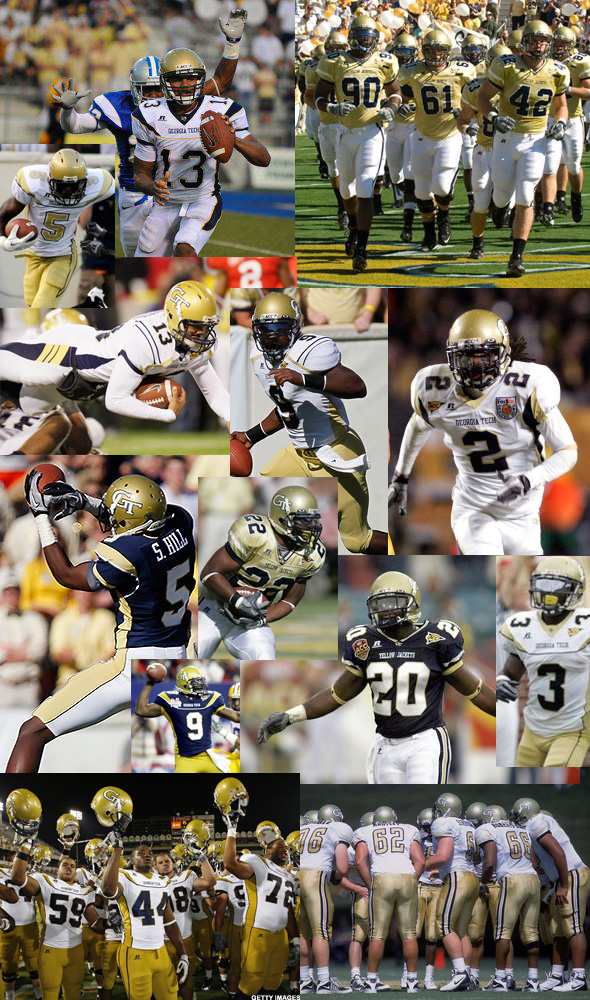 Our favorite concept is by our friends over at The Sports Design Blog in their "Open Letter to Georgia Tech Athletic Department." We ran these photos past our sources and they confirm this is not the design the new look is based off of. Though, both liked this look, and both had already seen these mockups.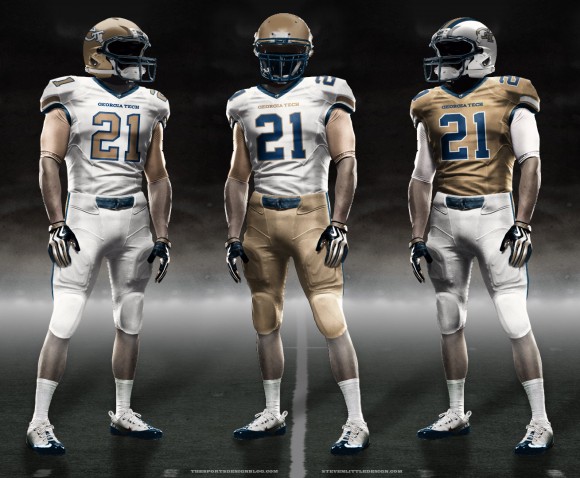 So, what do you expect to see in Lane Stadium on September 3rd? Honeycomb patterned shoulders? Navy as the primary? White helmets? How crazy do you think the Athletic Department will let them go?