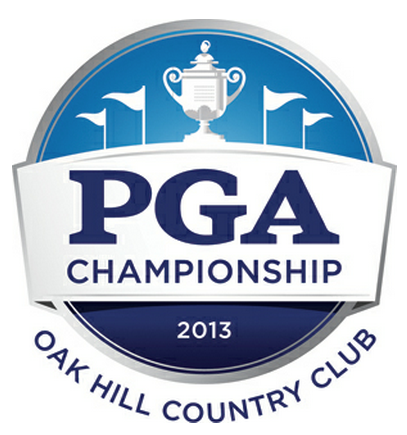 The PGA of America have unveiled their 2013 PGA Championship logo, to be held in August of next year at the Oak Hill Country Club in Rochester, NY.
Most importantly it was announced that starting with this 2013 edition of the annual PGA Championship event the logo will be more standardized from year-to-year.
According to Michael Smith of the Sports Business Journal, the new look was designed by the agency PS212 – founded by David Gaglione who had previously re-designed the PGA of America logo in 2008.  It was also reported that PS212 have provided designs through to the 2018 PGA Championship, the 100th anniversary.  The Centennial event will have it's own distinct logo.
"When you look at the previous logos, the primary focus was the course mark with the PGA Championship in the outer band and smaller print," PGA Sr. Director of Business Development Kevin Carter told the Sports Business Journal, "The new logo design puts the event front and center, and makes the PGA the story… It will do more to establish the identity of the tournament and give it more of a lasting impression."
While it's hard to argue with Mr. Carter that the new branding puts the PGA mark front and center, it's still a shame that we won't be seeing such localized/regionalized logos any more for this event, take a look at the logos from the previous events: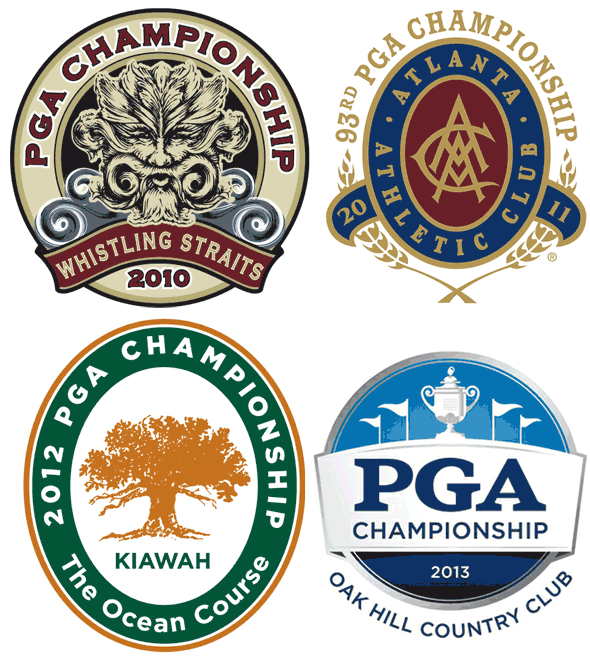 I find this move surprising considering the negative response the NFL has received for standardizing their Super Bowl logos…
But, what do you think?