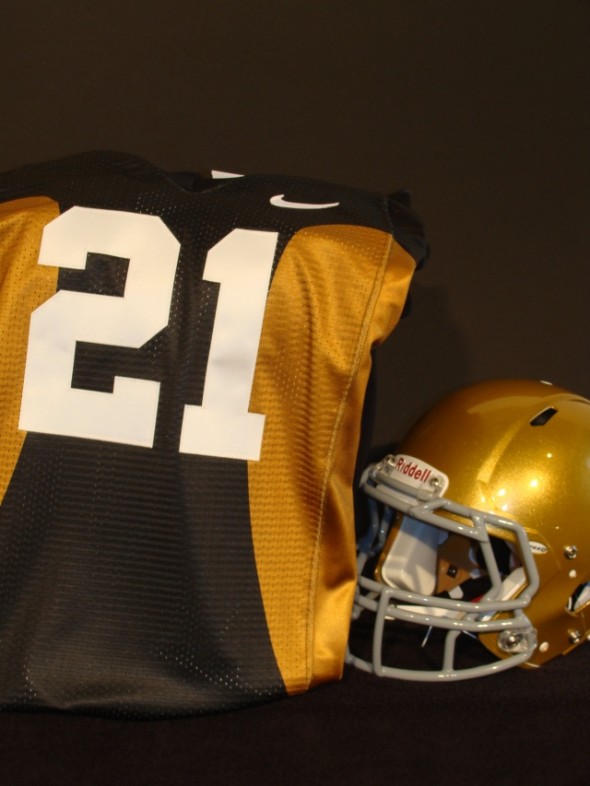 The Hawkeyes will wear the throwbacks when they host Iowa State in the annual Iowa Corn Cy-Hawk Trophy game Saturday, Sept. 8 in Kinnick Stadium
This will be Iowa's third game in throwback uniforms. The Hawkeyes wore uniforms modeled after the 1958 Iowa squad when they defeated Ball State 45-0 on Sept. 25, 2010. Iowa wore uniforms honoring the 1939 Ironmen during its 39-7 win over Kent State on Sept. 4, 2004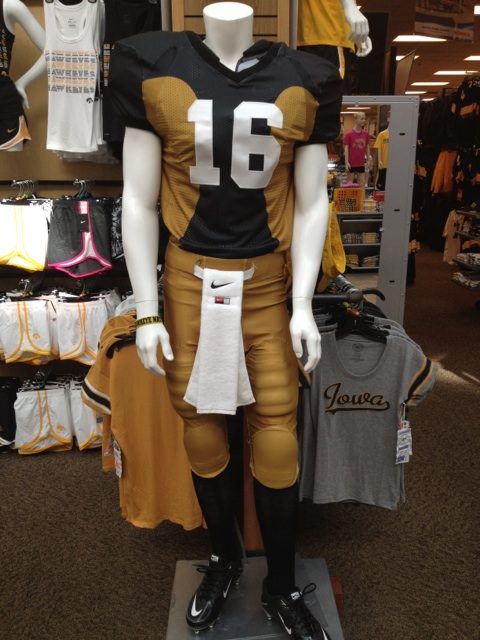 The uniform will celebrate 1921-1922 season with head coach Howard Jones when the Hawkeyes racked up a 7-0 overall record, 5-0 in Big Ten Conference, for both 1921 and 1922, including the Big Ten title both seasons.
Replicas are reported to be for sale for $180, as reported by Don Muret via Twitter
Helmet will be old gold with matching gold on the jersey and pants. Gray facemasks will be present, with a front bumper that says IOWA. (according the the Iowa Press Release, despite the above photo showing a Riddell bumper.) Back neckline will say '21-22 Big Ten Champs. No player names on the back of the jersey, with white numbers. Iowa will wear all black shoes with black laces and a silver (?!) Nike swoosh, and high black socks.
Now the question becomes, is this the proper uniform style to honor the 21-22 teams? Lets take a look at photos from those teams.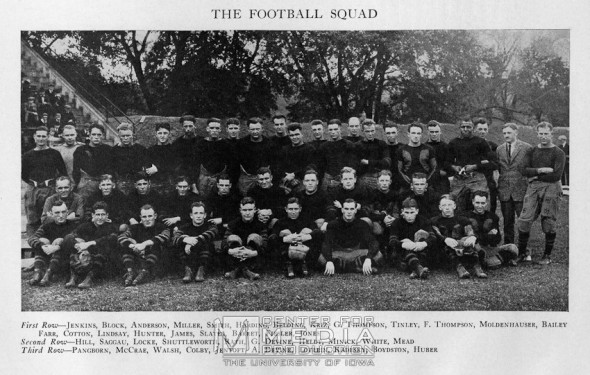 I certainly see three, perhaps four players with the semi-circle underarms, but the rest appear to be in solid black, or black with hoop sleeves. In fact, many more seem to be wearing the hoop sleeves. In looking at photos for other teams, the circle underarms appears to be a standard jersey template. In fact, Michigan was a little more consistent at all players wearing that template during the early twenties.
But how about a featured player?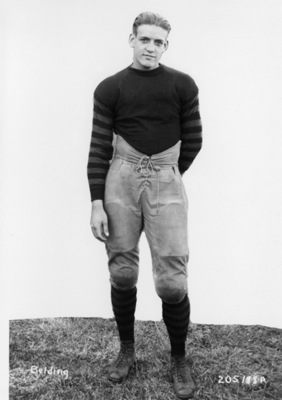 One of the marquee players on the 1921 Championship team, Lester Belding was considered the premier pass catcher in college football, at the end position. This photo from 1921 clearly shows his jersey as black with the hoop sleeves and socks. Perhaps the modern jersey, absent any sleeve whatsoever wouldn't show these stripes well enough, so Nike took artistic licence?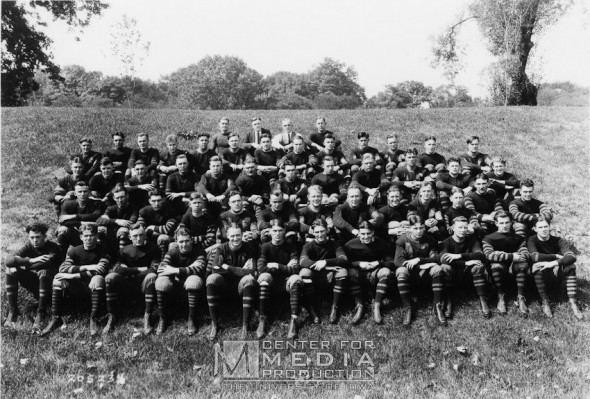 Similar issues here, with the 1922 team photo. Lots of hoops on socks and sleeves, very little evidence of gold armpit-stain-design on the jerseys. An astounding selection of different hooping on the socks.
Have we uncovered a historical error in throwback jerseys?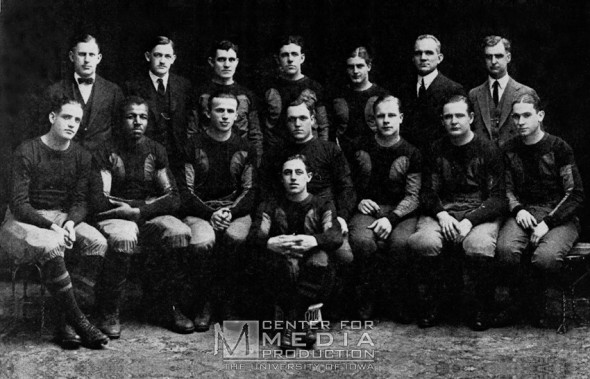 This photo, presented by The University of Iowa Photoservice and titled "1921 Champions" clearly shows almost every player (all but one) wearing the golden side circle look. Presumably the starting 11, this photo was taken to commemorate the Championship team. This now shows clearly that this was the intended look for this year's team, even if the full roster photos show players without.
That said, we call the throwbacks mostly accurate, with the notable neglect of the excellent hoop socks.
How do you like the throwbacks? Once can't argue with the success of the 1921-22 teams, but does this uniform set resonate with you as an Iowa uniform? Do you think they got the uniforms historically correct? Should they have added the randomly striped socks as shown in the 1922 full roster photo?