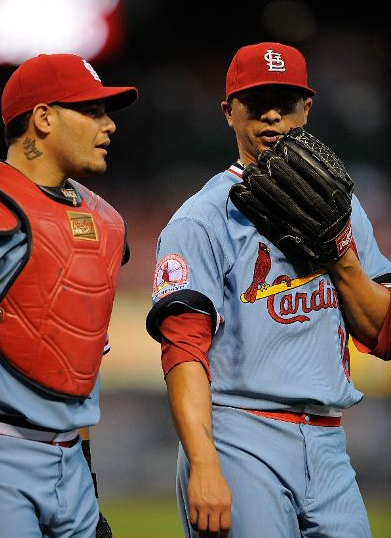 The St. Louis Cardinals continued their 30th anniversary celebrations of their World Series victory over the Milwaukee Brewers last night by wearing their powder blue road uniforms from 1982.
I wholeheartedly love the Cardinals in powder blue uniforms; something about their red matched up with that shade of blue as a uniform base, it just looks great together…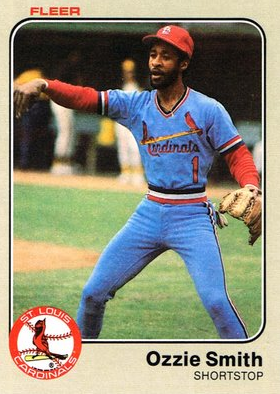 Yes, I can hear those traditionalists screaming about a team with over 120 seasons under their elastic waistband wearing anything other than grey on the road – but c'mon, the powder blue is an integral part of the Cardinals uniform history at this point…  They've won a World Series wearing them and had a future Hall of Famer in Ozzie Smith (who would go in with a Cards cap on his plaque) suit up in this look for the best seasons of his career.  Plus it just looks amazing.
The Cardinals rocked the powder-blue look on the road from 1976-1984.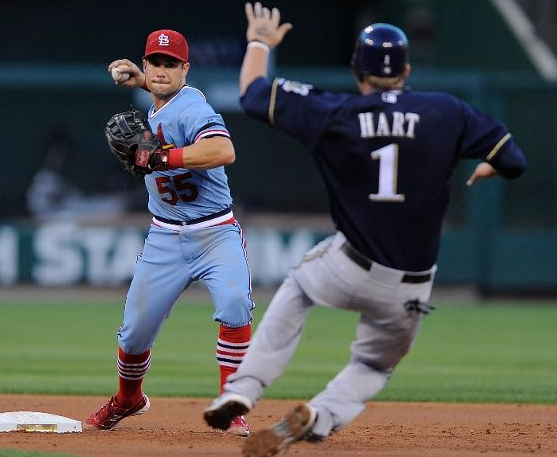 As for last night, the Milwaukee Brewers did not participate in the retro jersey matchup – presumably because they would have had to wear their 1982 home jerseys, which would have been just silly to do in St. Louis (almost as silly as the Cards wearing their '82 roads at home last night).
St. Louis once again wore their 1982 Ken Boyer memorial armband, as well as their World Series 30th anniversary patch – which naturally was not a part of the original '82 uniforms.
Some photos of the game…