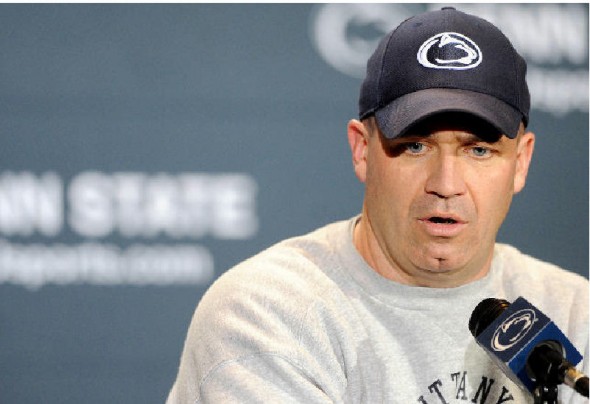 While fellow uniform enthusiasts (is there a name for that? There should be a name for us folks) are bombarded with headlines that scream "Nittany Lions Announce Uniform Changes!"  "Penn State Forgoes Decades of Tradition And Alters Uniforms!" and "New Penn State Unis for the Fall!" This site, in our responsibility to the truth and facts of logo and uniform design, read the press release by Nittany Lion's head coach Bill O'Brien, and regarded it as so unimportant, so temporary, so expected, so normal, that we chose not to cover it.
Apparently people want to talk about the changes, so let's discuss.
In the singe least unexpected move in all of sporting history, Penn State will wear ribbon patches on their jerseys to support victims of child abuse. A phenomenal cause for us all to support, to be sure. But Penn State wearing them? In other news, Fire; Hot. Water; Wet.
The other "change" and actually noteworthy simply because they are Penn State, afterall, is that the players will have their names on the backs of their jerseys. The school says that in the wake of tragedy and strife, this will be a way to recognize the strength of players who stayed with the program. It is solely my opinion that with the rash of transfers, and more coming, this is a way to help fans of the team figure out who the hell it is running the ball for the Nittany Lions.
Two things will be different about the classic Penn State Uniforms for 2012. Both a called "not permanent" and both would be easily overlooked by any casual fan of the game.
Do you love the changes? Do you think they deserve the sports universe's massive outpouring of attention? Do you consider them changes at all?