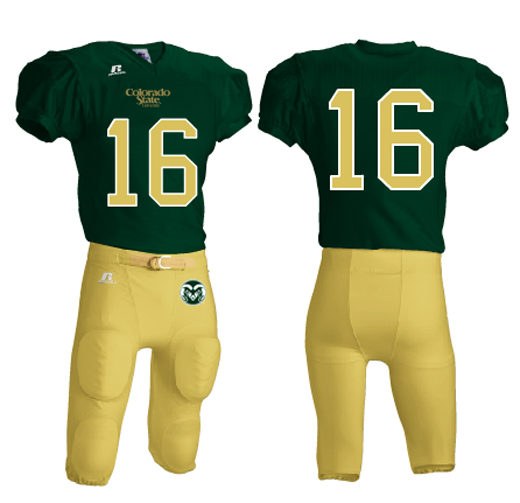 At Colorado State's Media Day, the Rams showed off their new, sleek, clean, simple new uniforms for the 2012 season. Coach Jim McElwain didn't think they were worth discussing, but most in attendance disagreed. The coach replied "I wish we'd wear our practice jerseys and our practice uniforms and learn how to go out and block and tackle and play," he said. "To me, you have to earn the uniform. As of right now, we haven't done any of that. I do believe we will, and I do believe we will in time"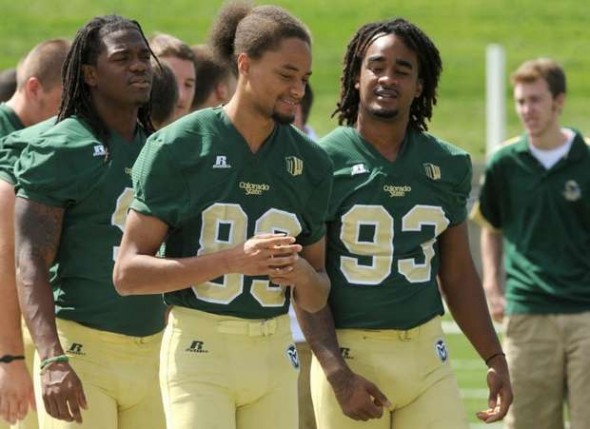 "They're what I would expect from Coach Mac coming from Alabama, just the plain. That's all you need, really. I'm not worried about it. It doesn't really matter what your uniform looks like as long as you play well." – Weston Richburg

No, 26, they aren't boring, they are sharp!
The jerseys are green. No yoke, no piping, no stripes, no names on back, no shiney-goat-winged-carbon-fiber-stretch-breathing-material. They have the conference logo and team name. Numbers are gold with white outline.
Gold pants with a team logo patch, no striping, no swirls, no color fades, not even a contrasting color belt.
Russell deserves credit for letting a team be classy, simple, clean.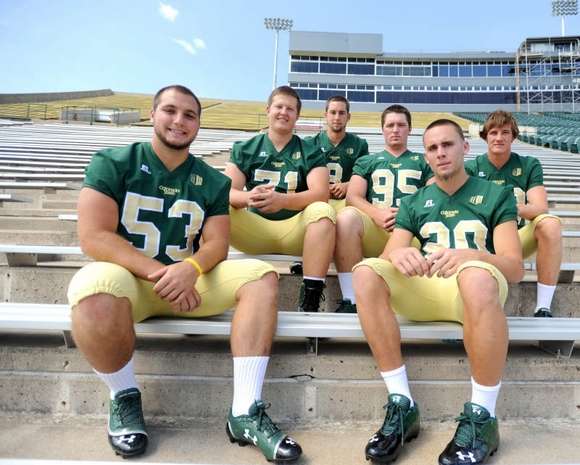 Curious that the team photos show the players wearing UnderArmour shoes, who is a competitor in the uniform market. I suppose Russell may not have the top-notch footwear a team requires, but still, giving them that inside into the team appears like a dangerous move. Keep an eye on this team and see if they end up being an UnderArmour uniform client int he next few years.
Do you like the clean look? Will the youth still come? Doesn't it actually have anything to do with the coach coming from Alabama?