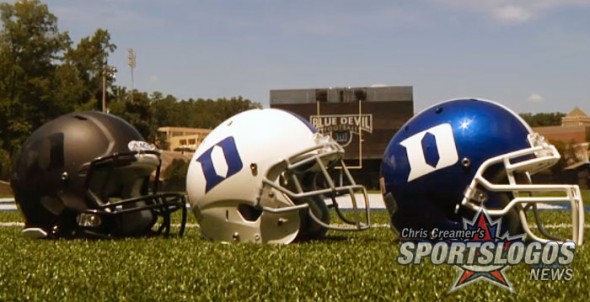 The Duke Blue Devils showed off their multiple helmet selections, adding a blue and a black to their previous white. The blue is a shiny metallic shell with white logo and stripe, the black is flat, or matte, with glossy logo and stripe.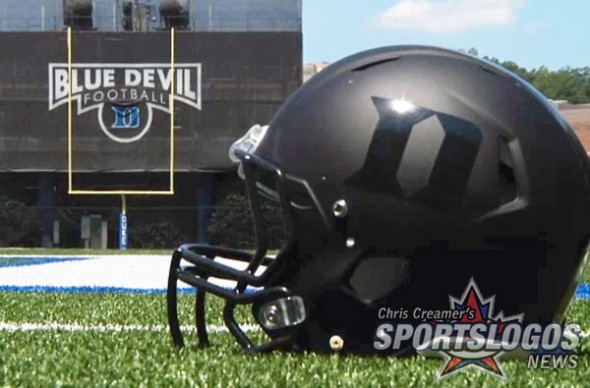 In the display helmets, the black appears to be a newer helmet style, while the other two are more standard designs. One imagines this is just a case of random selection of sending shells to the painter, but is worth watching.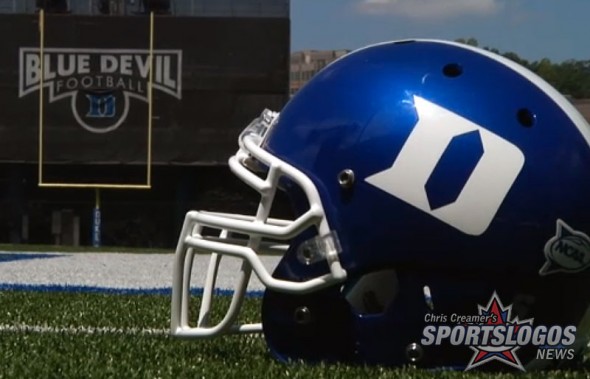 The blue will feature a white facemask, and interesting decision, since the white helmets have a grey.
Blue helmets have been donned by Duke players several times in their history, but never with the "Iron Duke D" which first appeared on Duke helmets in 2004.
"I love the job that we've done with our headgear. We've worn these in practice and good gosh do they look good out there." – Duke head coach David Cutcliffe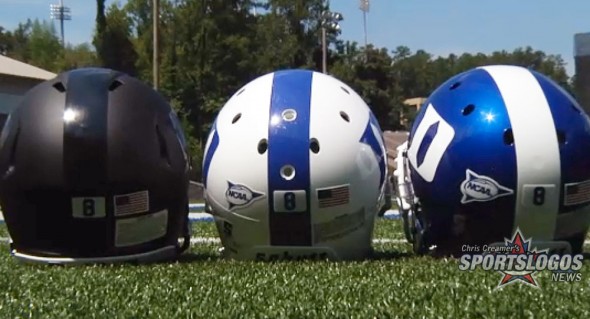 All helmets will have #8 sticker on back of helmet, in honor of Duke wide receiver Blair Holliday, critically injured in watercraft accident on July 4th and currently in an Atlanta hospital.
"This has been a difficult thing… You find out what people are all about in the face of this kind of adversity. And I can just say this: we are surrounded by great people." – Coach Cutcliffe
"I think they're great… I'm excited to put them on. I'm excited to get the season started so we can try them out and break them in, get some scuffs on them." – Defensive End Dezmond Johnson
Do you love them, design denizens? Are you crazy about the matte, logo locos? Does the grey, white, and black facemask mis-mosh make you tingle? Are you screaming into your screen that flat black is soooo 2005? Tell us what you think.