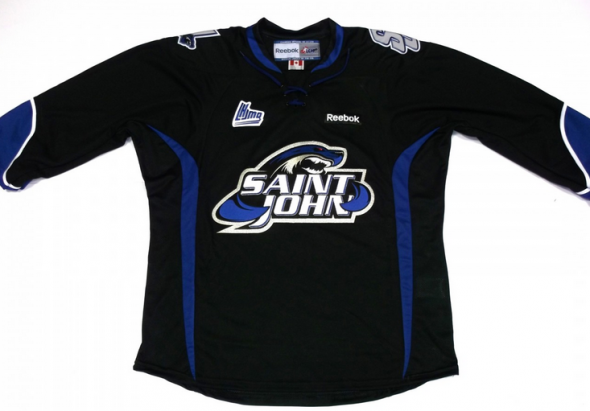 Back-to-back QMJHL President Cup Champions, the Saint John Sea Dogs yesterday unveiled their new alternate jersey before their pre-season game against the PEI Rocket.  While the look may be new to the Sea Dogs franchise, it's certainly not  unfamiliar to Saint John hockey fans.
For their first-ever alternate jersey, the Sea Dogs decided to pay homage to their predecessor at Harbour Station, the AHL's Saint John Flames, winners of the 2001 AHL Calder Cup who left the league just two seasons later.
Like the Flames, the new Sea Dogs jersey (pictured above) is black but the main similarity comes with the logo style.
Both logos feature the team mascot, a dragon for the Flames and a seal (or sea dog) for the Sea Dogs, wrapping their arms around "SAINT JOHN", holding it in front of their chests.
Fan reaction has been mostly positive so far, many fans like that the Flames history and fanbase is still recognized by the Sea Dogs:
"Lots of history in Saint John so nice to sort of honor the Flames for those that were fans and incorporate it into the hockey team Saint John has now." – commented an Anonymous user on Sea Dogs fan site Station Nation.
The new Sea Dogs jersey will hit the ice for the first time on September 29th against the Gatineau Olympiques.