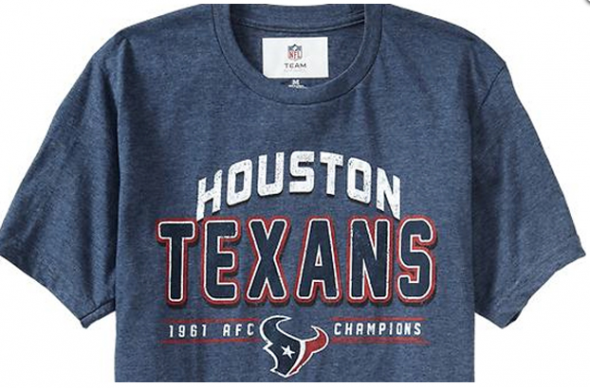 Old Navy recently revealed their latest line of NFL t-shirts named "Team Champions", featuring a distressed graphic for every NFL team as well as a notable championship from the teams history.
A slight problem with that idea rears its ugly head when you start assigning either championships a team never won, or even better championships for titles which never existed in the year they claim to have been won.
The Houston Texans, who were established in 2002, obviously never won the 1961 AFC Championship – nor was there even an AFC back in '61.  Presumably the folks creating the t-shirts got seven shades of confused when they saw the Houston OILERS won the AF*L* championship in 1961 (either that or the DALLAS Texans in 196*2*).  No matter which way you slice it, this was a major bugger-up.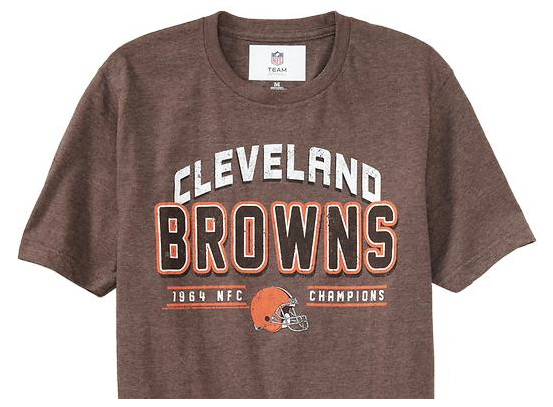 Cleveland Browns fans will be thrilled to know that their team has now won an NFC Championship, remarkable considering they've never been in the NFC.  Even more remarkable was that they won it in 1964, a full six years before the NFC even existed.  For those wondering, the Browns won the NF*L* title in '64.
All other mix-ups centre around the store apparently unaware of the AFL-NFL merger in 1970, Joe Namath and the New York Jets won Super Bowl III in 1968 as a member of the underdog AFL but that great piece of AFL history has been washed away as the Jets are listed as the 1968 *NFL* Champions.  Same for the Kansas City Chiefs of 1969.
Old Navy was made aware of the snafu and removed the items from their website, you can still see the teams that did not feature any errors on their site here.