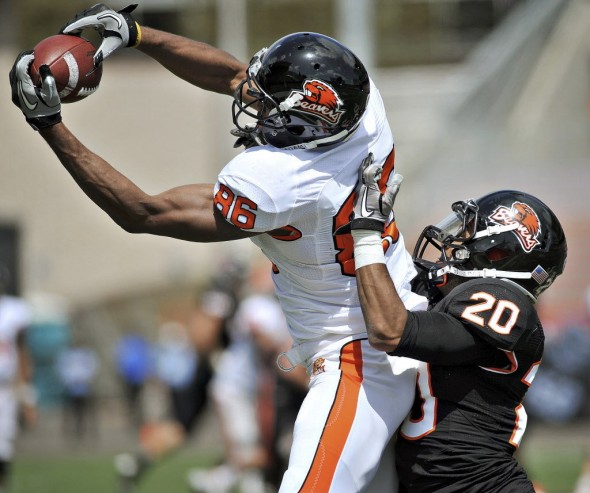 Oregon State has confirmed that they are undergoing the rebranding process with Nike. The new look is to be released "sometime in the fall of 2013."
The Beavers have been a Nike school for quite some time, but have been hesitant in the past to completely start from scratch. In 2007, they introduced their interlocking OS logo to help differentiate themselves from other OSUs like Ohio State University and Oklahoma State. This was a comprehensive look that was distributed to all the sports teams in the school.
Word was not forthcoming if the orange or the Beaver would survive, but given the school's previous resistance to change, one would assume they would. Though, with Nike's design department infamous for absolutely absurd design and trashing of tradition and history, it is hard to tell.
Should be exciting. Stay tuned here for updates as they are released.
What do you expect? Do you fear the worst?
Your author finds it very interesting that Nike's feature school Oregon's biggest rival, Oregon State, would even be a Nike team to begin with. Rivals should distance themselves from one another in any and all ways possible. Why have the designer of your set also design your rival? Sounds like asking for trouble to me. I'd want my team to have gear from my rival's designer's rival. OSU should be an Adidas or Under Armour school. Not that the selection would mean anything better for the school's design potential. I think one of these outfitters should position themselves as the tasteful, traditional, classy designer. Its too late for these companies and especially Russell, who has ruined Georgia Tech. Perhaps a new company, or one taking a fresh approach to sports.
Agree? Disagree? Let's hear it!