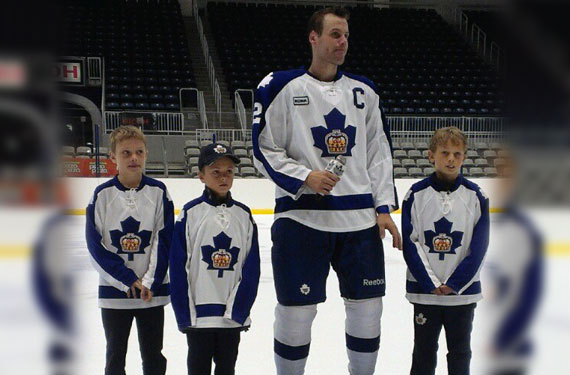 Over the weekend the Toronto Marlies, AHL affiliate to the Toronto Maple Leafs, unveiled a new alternate jersey for their upcoming 2012-13 season and thankfully this one doesn't have a cartoon dog biting a hockey puck on it like the last one did.
The jersey is a direct copy (minus the RONA sponsor patch) of the uniform worn by the Ontario Hockey League's Toronto Marlboros during their final 20-or-so seasons.  The Marlboros, commonly referred to as The Marlies by fans and media, were the inspiration behind name of the current AHL franchise, something the team acknowledged during their first few seasons by way of a shoulder patch.  That team also had an affiliation with the Maple Leafs and wore the Leafs jerseys with a crown on the leaf insignia instead of the team script.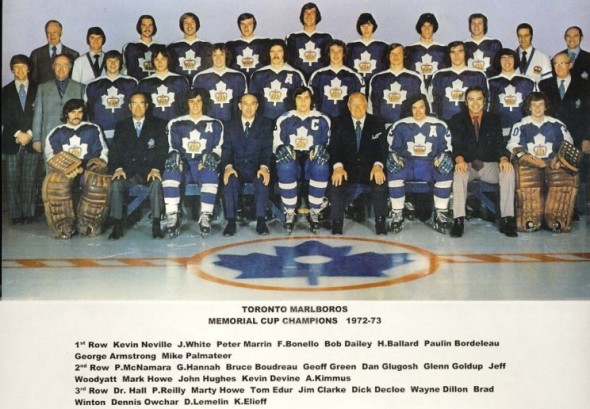 What makes this jersey a little extra special for me is it's the first uniform I ever saw in person at a live sporting event.  Cue the trip down memory lane…
"It was Easter weekend and I knew everything would be closed so I decided to buy tickets to the game… I heard it was possibly the last game ever for the Marlies so decided to take Chris along even though he wasn't really into sports" – My Dad.
My family and I were visiting my grandparents in Cornwall, Ontario for the Easter long weekend in March of 1989. As my dad recalled above, it was indeed the last season in the history of the Toronto Marlboros; owner Harold Ballard had announced he would be selling the team, severing their ties with the Maple Leafs, and the team was going down the QEW to Hamilton following the season thus ending 85 seasons of Marlboros hockey.  Nice guy that Ballard was.
Here were the Marlies, now down 3-games-to-2 in their best-of-seven first round matchup with the hometown Cornwall Royals, making this game a little extra-special. Wait a second… did my dad say I wasn't into sports?  Hard to imagine, but at the too-young-to-know-any-better age of six I suppose it was possible.
We had front row seats!  Sounds like a nice introduction to a live sporting event but anyone who's ever been to a game at the old Cornwall Civic Complex can tell you that front row back in '89 wasn't exactly up against the glass like most arenas… "The seats were about 10 feet off the floor with a drop to ice level" adds my father, personally all I remember was being high up in the air and back away from the ice.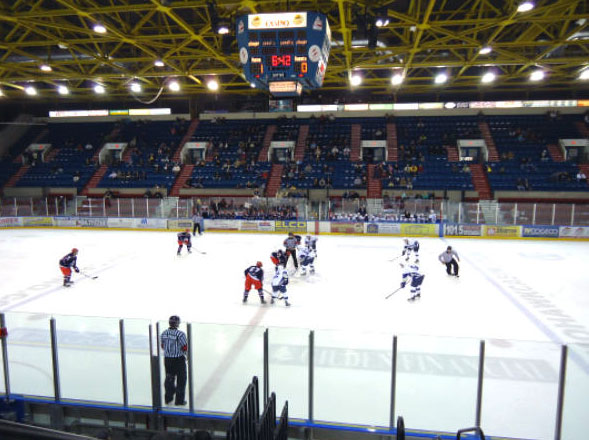 The Marlboros took to the ice for the pre-game warmup and my little brain thought they were the Maple Leafs, my keen attention to logo detail was present back then as I saw the crown on the logo – I noticed it immediately, but I explained it myself as "you can only see the crown when you're in person, when you're watching on tv you can see the words".  It makes sense, don't try arguing with a six year old.
My dad says I saw a player wind up to take a slap shot during those warmups and my jaw dropped as I let out an impressed "woaaaaaah!", sounds like it was love at first sight.  A big fight right in front of us later in the game helped seal the deal.  I was hooked.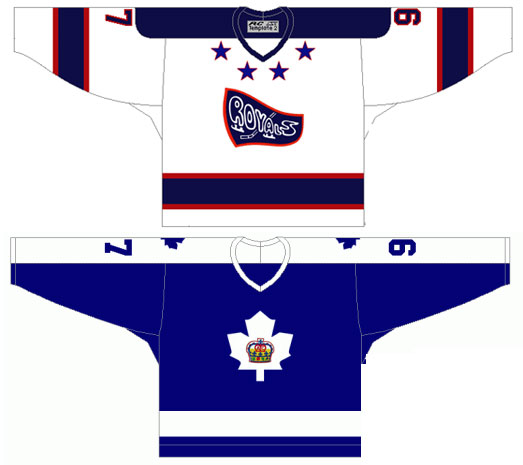 While I rooted on those Maple Le… sorry, Marlies (even yelling at them that they were skating the wrong way at the start of the second period), they just couldn't pull it out, the Cornwall Royals slaughtered them to the tune of 12-3, or something else equally ridiculous, advancing them through to the second round.
That was it, the Marlies were done.  History.  Off to Hamilton where hockey teams go to thrive but end up getting little support.  I was a Marlboros fan for exactly one game before they relocated.  Talk about a rude introduction to the world of being a sports fan.  The Royals left town a couple of years later, if I wanted to experience a match between these two franchises today I'd have to watch the Guelph Storm take on the Sarnia Sting… it's just not the same.
Fast forward 16 years, those Toronto Maple Leafs have relocated their AHL franchise from St. John's to Toronto and chose to re-introduce the Marlies name to the local scene, my Marlies have returned!  When the inaugural pre-season schedule is announced the very first game is a neutral site matchup in my new hometown of Oshawa, Ontario – and it just happens to be against Hamilton, the city the original Marlies relocated to. I had to be there.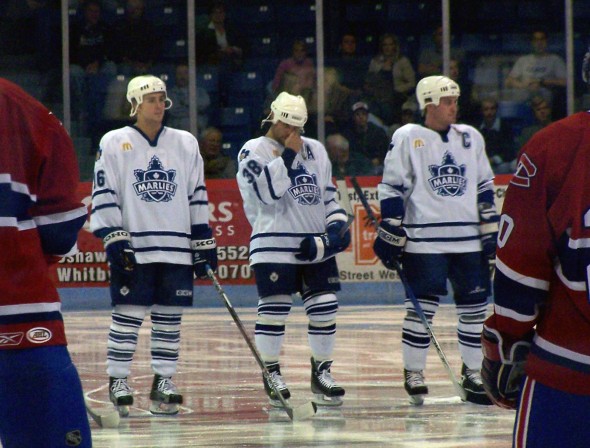 Echoing the events of 1989, we snatch up a two tickets only this time it's me treating my dad to the game…  and wouldn't ya know it, we're back in the front row (a real front row this time).  Sure, there may have been a gap of 16 years in there but we're going to two Marlies games in a row together, it was a memorable moment for sure. To top it all off the Marlies don't disappoint, beating the Hamilton Bulldogs 5-2.
Since that moment I've been to quite a few Marlies games, none with my dad but instead with various friends and ex-girlfriends of years past, I was even a partial season ticket holder one season. Encounters with somewhat agressive security when it comes to camera lenses have turned me off from attending any games since that season; I haven't been back at all since 2007.
The allure of seeing those old classics back in action just might be enough for me to put aside my gripes with security to come back down for a game or two, they'll be worn every Sunday home game but honestly right now all I care about is to having that beauty of a jersey hanging up in my closet.  I need to have it.
Well done Marlies, another step in the right direction.