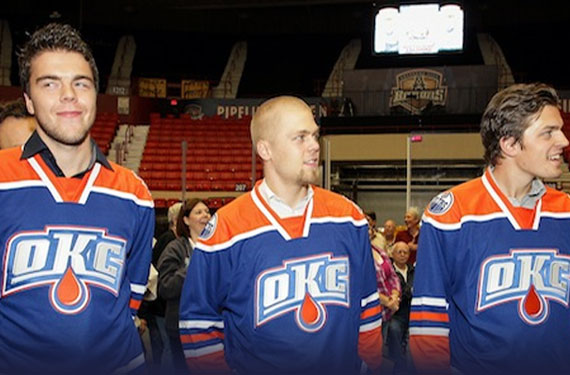 The Oklahoma City Barons, American Hockey League affiliate of the NHL's Edmonton Oilers, unveiled a new third jersey during a fan "open house" event at their home arena on Tuesday night with images uploaded to the Twitter account of reporter Eric Rodgers.
Borrowing heavily from design elements used by the parent Oilers, the Barons new alternate jersey is similarly styled using royal blue with orange shoulders trimmed in white.
On the front of the jerseys is a re-coloured version of the Barons alternate logo, an OKC above a single oil drop.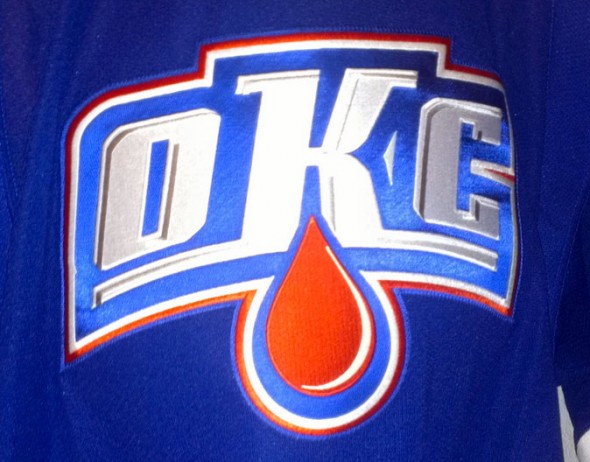 Typically the Barons wear uniforms and logos which use the previous colour scheme and jersey styles used by the Edmonton Oilers, midnight blue and copper.  This new jersey will be their first regular uniform to feature elements of the new Oilers look.
At the unveiling on Tuesday night Barons Owner and CEO Bob Funk, Jr. explained that the club had initially wanted their own identity but also to acknowledge the link to their parent club in Edmonton which is why they had used the navy and copper.  The Oilers shortly thereafter changed their colours back to their original look.
"My first thought was 'No! I invested a lot of money into this branding', but after receiving some feedback from the fans we've decided to introduce a new third jersey" – OKC Barons Owner Bob Funk Jr.
The jersey has the Barons primary logo on one shoulder and the Oilers on the other, it is available for sale now at the OKC Barons online shop.