The Milwaukee Brewers are getting their fans involved in a way we've yet to see in Major League Baseball.
For one Spring Training game this coming season the Milwaukee Brewers will be wearing a uniform designed by one lucky fan.  Yes, that's right! You have the chance to get your design on a Major League ballfield, and not only that you'll get to watch the game in-person and best of all, get one of the game-worn caps and jerseys from the player of your choice following the game. Oh, how I wish.
To those who may be "poo-pooing" this idea as you're reading, I'll tell you why you should chill a little… it's a Spring Training game.  On top of that it's just one Spring Training game. So worst case scenario? If the design is absolutely atrocious it'll be gone and forgotten once the season gets underway. Best case scenario? You get to watch your design in a Major League Baseball game!
Judging by the package I received in the mail from the club, they're clearly having a lot of fun with the idea, that's a blank cap, a blank jersey, and a handful of crayola markers… time for me to get drawin'!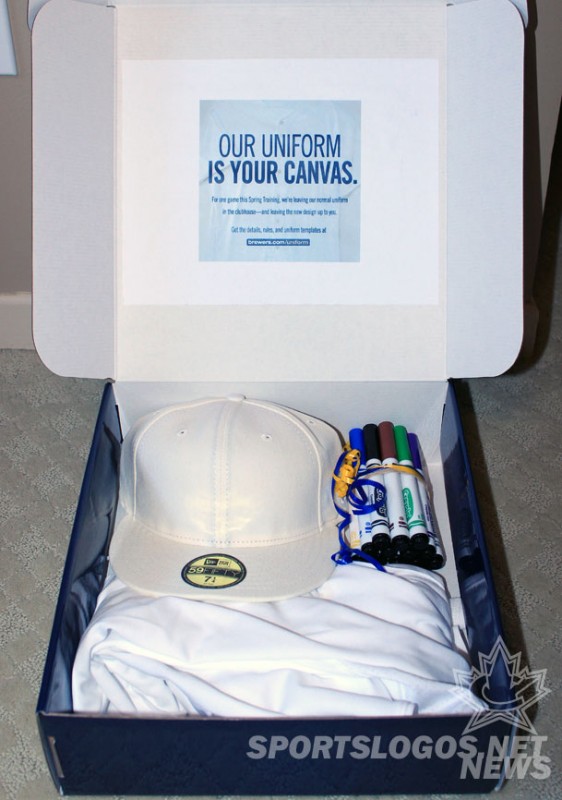 There's a lot of design guidelines involved but shouldn't be any surprise for anyone who's ever had to design for a team, they are fairly straight-forward and what you'd expect for a contest like this:
• Original artwork only but you may use existing Brewers logos
• If a partial Brewers logo is used (i.e. not the full logo), that same logo needs to be used in its entirety nearby
• If a Mascot names is used, the mascot design itself needs to also be present in a nearby location
• If using the "Brewers" name, it needs to be in a different font than any other text within your design.
• Fabric needs to be a solid color and cannot be a burnout fabric or patterned fabric.
• No profanity
• Cannot have an image of a baseball by itself on any part of the design.
The full set of guidelines can be found here.
There's also a separate set of rules, the one that concerns me the most is that it's open to U.S. residents only, which is a drag, I would have loved to been able to enter a design or two.  Also note you must be at least 18 years of age to enter.  Full rules here.
Designs can be submitted into the Milwaukee Brewers' "Design a YOUniform" Contest via the webform at brewers.com/uniform using the provided template below (but you should download a PDF version of the template here, JPEG here):