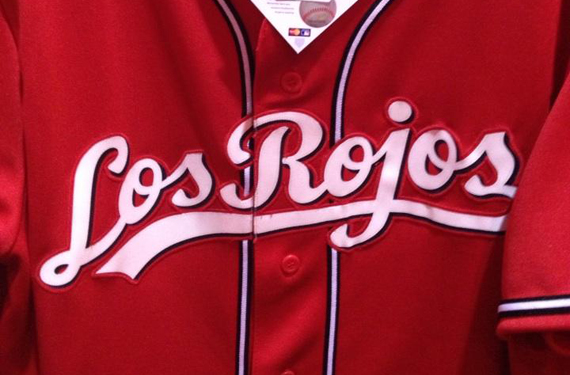 At Redfest over the weekend, the Cincinnati Reds revealed their alternate jerseys for 2013. The red jersey, with black-white-black placket and sleeve piping and "Los Rojos" across the front, will be worn primarily at home, but don't rule it out being worn on the road, according to Reds COO Phil Castellini. From cincinnati.com:
"We'll use it throughout the season at home games, with exact dates not determined. We might also do it on the road, for example, if we're in Milwaukee at the same time they're doing their Hispanic Heritage night."
The Hispanic Heritage Nights have become a very popular one-off promotion, but this is the first time a Spanish script has ever been a full time alternate for a team, obvious examples like Los Angeles and San Diego notwithstanding.
Cincinnati, according to the most recent US census, has a Hispanic population of 2.8%.
The jersey is currently available to purchase on shop.MLB.com.
So let's hear it from you. What do you think about these? Are you OK with the Hispanic Heritage jerseys becoming more prevalent in the sports world?