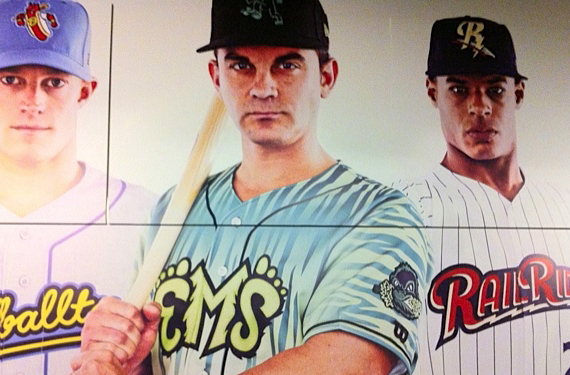 At the Winter Meetings in Nashville, the Eugene Emeralds of the Northwest League unveiled their new home uniforms. Readers will remember that last week, the Emeralds had a big announcement for their new logo set.
In an interview with The Logocast, Emeralds GM Allan Benavides explained the look.
We have gone away from the pinstriping to a real fun like wood grain pattern, that's on our jersey top now, and it's got a real Oregon feel to it. So it's different, it's a little unique, but it's flashy still.
The jersey features the lime green Ems script on a white jersey with black sleeve and placket piping and a multi-tone green wood grain. The back of the jersey features white numbers bordered in black. (photo credit CCSLC member Bradbury)
Are these "insane in a good way"? Or have the Emeralds and Brandiose gone too far? What do you think?