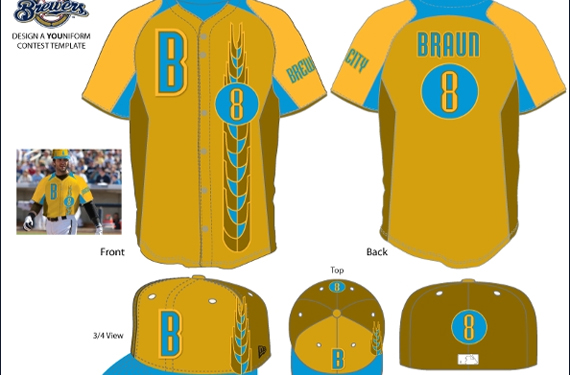 The barley is flowing straight into the offices of the Milwaukee Brewers. And it all comes pre-packaged in a PDF.
With the deadline for the "Youniform" contest—you know, the one where Milwaukee took advantage of the growing demographic of folks in love with sports design by offering them a chance to design a uniform to be worn during one spring training contest—rapidly approaching at midnight on Thursday, the contest entries have vastly exceeded expectations, according to a team spokesperson.
Already over 500 submissions have hit the inbox of the Brewers. And while there's much love for a stalk of barley, some of the other team logos aren't getting the same nostalgic treatment.
The Brewers have taken to posting the designs on their contest page in a gallery, inviting you to scroll through everything from childlike drawings to full professional renderings at your leisure (and you best have plenty of leisure time if you want to take it all in).
A gander through the designs offers plenty in the way of baby blue, barley motifs and the fabled glove logo used from 1978 to 1993. There wasn't the same excitement for the interlocking M and B logo with the baseball bats used from 1994 to 1999. Another popular Milwaukee term getting plenty of attention was "Brew Crew," which adorned locales from the front of jersey tops to the back of caps.
To keep the process streamlined, as reported previously by SportsLogos.net, the team offered a list of rules, but one that didn't actually put too much restraint on creativity. So, cue the overflowing suds designs. There's also an oddly placed mustache design and an attempt to riff off the well-known outfield slide, used by the team mascot.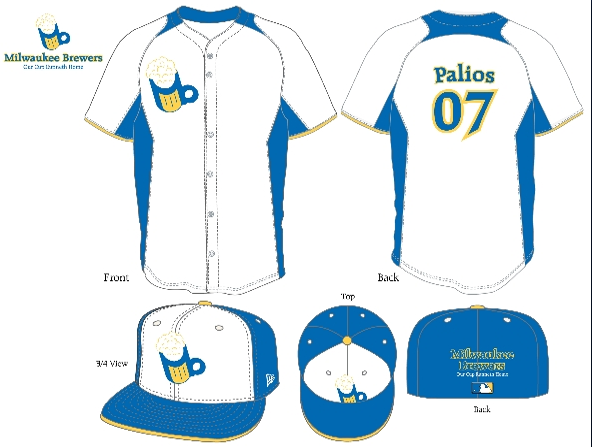 Most of the coloring keeps with varying hues of blues and yellows used throughout the history of the club, but with some neon tendencies mixed in for good measure. And there's still a little time to get your own colorway included.
The team has been impressed with the quality of the designs and says it may even reconsider the idea of wearing the fan-created look at just the one spring training game. While there's certainly nothing official, plan on seeing fan-created barley—or some other fan favorite—more than once this season.