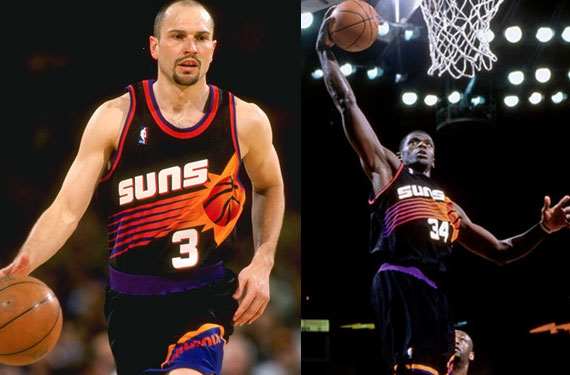 The Phoenix Suns unveiled their Hardwood Classic jersey on Wednesday, bringing back their all-black alternate uniform originally worn from 1994/95 – 1999/2000.
"Every basketball player wants to wear their team's throwback jerseys. It reminds me of Barkley and those good old days. Obviously, those black uniforms always stood out. As a kid, everyone loved those." – Suns guard Jared Dudley to NBA.com
The re-introduction of the predominantly black and orange retro alternates comes just two months after the Suns re-designed their home court to focus on a more black and orange colour scheme.  The team is expected to unveil a new uniform set during the upcoming off-season in time for 2013/14.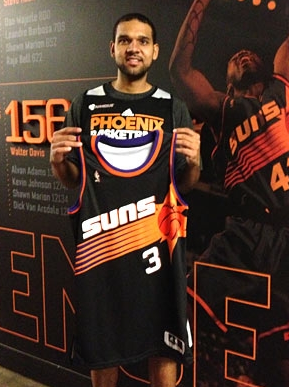 We'll get our first on-court look of the all-black uniforms next month when the Suns host Steve Nash (who wore this uniform during his early years with the Suns) and the Los Angeles Lakers on January 30th.
The Suns will wear the uniform ten times over the course of the final four months of the season including black v. black games against the Spurs and Nets. Three of the then games will be played on the road.  The complete schedule below:
January 30th vs. Lakers
February 10th vs. Thunder
February 12th @ Lakers
February 22nd vs. Celtics
February 24th vs. Spurs
February 27th @ Spurs
March 13th @ Rockets
March 18th vs. Lakers
March 24th vs. Nets
March 30th vs. Pacers