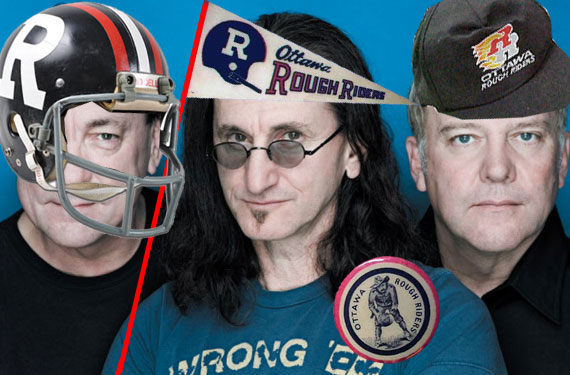 When the Canadian Football League returns to the nation's capital in 2014 you should expect to see a "Rush" of fans head towards the stadium.
Or maybe it's the rush of players running down the field, or perhaps they just really love Geddy Lee up in Ottawa… either way it looks as if when the CFL comes back to Ottawa they'll be known as the Ottawa Rush.
The "Rush" speculation stems from a trademark registration made by Capital Gridiron Limited Partnership back on November 29th of this year. Capital Gridiron is the ownership group of the new Ottawa team.  On that day last month the group registered "Rush", "Ottawa Rush Football Team", and "Rush Football Team".
When contacted by the CBC last week the team said they are still accepting suggestions and said that "Rush" is only one of the names they've registered so far… but that just doesn't appear to be true.
As of yesterday "Rush" is the only name that's been registered by the group, while the domain "ottawarush.com" was purchased by the Ottawa 67's, the junior OHL club owned by the same group, back in November of 2011… so this is a name they've been wanting to use for over a year now.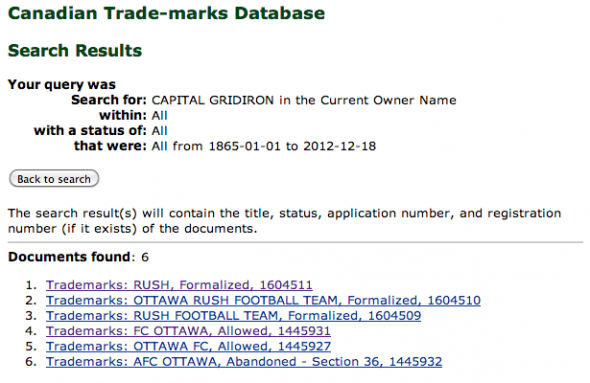 It may be true that the club is considering other names but they've filed no trademark requests for anything but this one, public reaction has been anything but positive and with well over a year left to go before they hit the turf anything could happen.
Rush works for a couple of reasons, but I don't think they're strong enough reasons to merit picking a substandard name.  It keeps the use of the "R" in Ottawa football allowing them to just bring back the old white R on black Rough Riders helmets from the '70s and '80s… but there are many "R" nouns they could go with – here, here's a pretty comprehensive list.
The other benefit being it can be used bi-lingually… and if that's really a top concern then we're really narrowing down the field of quality names we can use – especially if it also has to start with R.  Ottawa RSVPs?  Could work well in marketing materials to future former season ticket holders after a few losing seasons out of the gate.
We'll keep an eye on this and make it known if any future names are registered, but as of now it looks like it'll be the "Rush" joining a sea of classic CFL names come 2014.