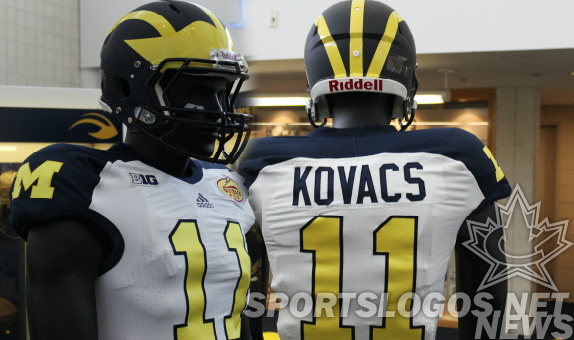 The Wolverines have announced they will be wearing a special uniform, just for their Outback Bowl game against South Carolina. Similar to the uniforms they wore to open the season against Alabama, these reverse the shoulder/number colors from their early-season specials, making the shoulders navy and the numbers maize. The numbers this time have an outline, of the navy variety.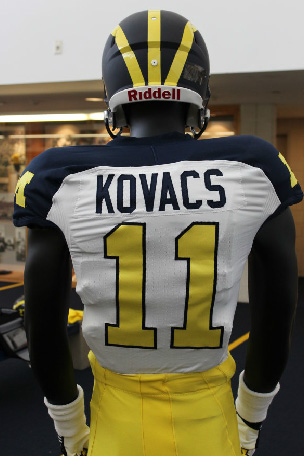 The truly special part of this one-game uniform is the helmet. While at first glance, the same as what Michigan has worn since time immemorial, these have a secret; The navy is flat. Matte helmet fans, let's hear it! (crickets) Oh. OK.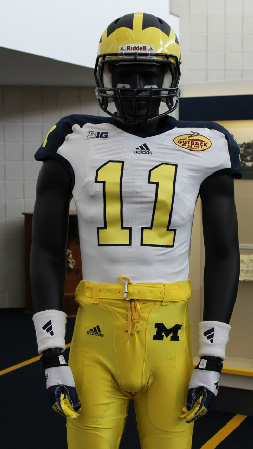 The pants remain maize. The jersey has the Big Ten logo, the adidas logo, and the Outback logo across the chest, one, two three.  In this special uniform, attention was paid to make sure the bowl logo didn't look "stuck on."
The players seem to be in favor, which seems to be second in importance to what potential recruits think.
Senior safety Jordan Kovacs, whose jersey was modeled for the unveiling, said; "I like them. I think they're pretty unique, pretty special. We like to wear our unique uniforms in big games, special games. This is a big game for our seniors. It will be fun. They look good."
He then added that we shouldn't expect the Wolverines to go Ducks-style, ""With Coach Hoke, you don't have to worry too much about getting carried away with it."
"I like the bowl uniforms," offensive guard Patrick Omameh said. "I am a fan of the matte look. I have been looking at them over the last couple days, and I really like them. It's a different look, more modern. It's something we don't usually do. Anything you can do to change it up a little bit and throw in some flair, it's always keep it interesting."
Are you in favor of the matte blue with the shiny maize? Do you find the likeness to the jerseys worn against Alabama a good thing, or too boring?