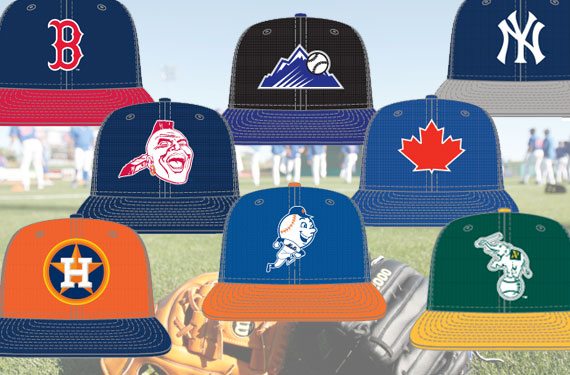 Major League Baseball and New Era are set to unveil their latest league-wide batting practice cap re-design in the coming weeks and for the first time since 2007 we're thankfully being spared the untraditional cap design elements.
Gone is the piping on the bill, as is the piping running up the front of the cap.  There will be no return to the arches just above either ear (and over the MLB logo on the back) used pre-2010.  It's just a return to your basic, good old fashioned, cap design styles.
While the whacky swooshes and piping are gone, alt-coloured front-panel caps are leading the way with this batch with several teams using them who have never before in their club history, teams like the Tigers, Royals, and Marlins will all have white on the front of their caps this Spring.
Did we mention they'll be using NewEra's 59Fifty cap?  Well they are, which is welcome news to some and not so welcome news to others.  I fall in the "not so welcome" class – I've personally never enjoyed how the 59Fifty's feel and was was always a fan of New Era's various BP caps they had been using since '03.
Knowing our readers crave all the details we can possibly find when it comes to sports design (instead of a dismissive one-liner) we'll be taking an in-depth look at the new batting practice caps for each team in 2013 here at SportsLogos.Net one division at a time.
Click any of the links before to see the new looks for each of the teams in that division:
2013 American League East BP Caps
Baltimore, Boston, NY Yankees, Tampa Bay, Toronto
2013 American League Central BP Caps
Chi White Sox, Cleveland, Detroit, Kansas City, Minnesota
2013 American League West BP Caps
Houston, LA Angels, Oakland, Seattle, Texas
2013 National League East BP Caps
Atlanta, Miami, NY Mets, Philadelphia, Washington
2013 National League Central BP Caps
Chi Cubs, Cincinnati, Milwaukee, Pittsburgh, St. Louis
2013 National League West BP Caps
Arizona, Colorado, LA Dodgers, San Diego, San Francisco