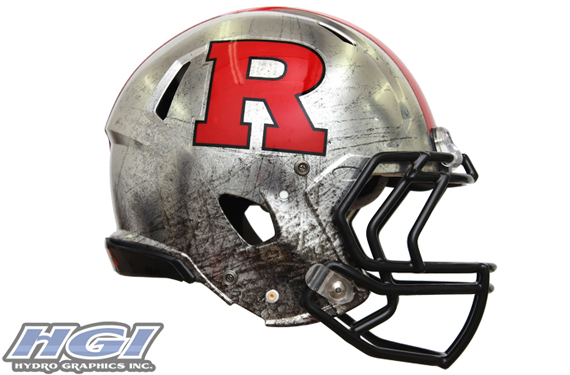 It wasn't until 2012 that teams started adorning helmets with duck wings and metallic "scars." Add those types of embellishments to shiny chrome or matte and the array of new looks for helmets across the nation continues to grow with every regular-season Saturday and even further during bowl season.
We can credit Oregon-based Hydro Graphics Inc. with that growth. The company's water-transfer printing process has given designers all sorts of freedom with helmets, from the extreme shininess employed by Rutgers (those are the battle scars), Oregon (obviously the duck wings) and even North Carolina to the subdued matte look we've seen from Virginia Tech, Oregon State, Baylor and more. In fact, look for Northwestern to debut a new matte helmet on New Year's Day.
SportsLogos.Net caught up with Drew Gereb, Hydro Graphics' vice president of business development, to discuss the rise in the company's 3D-style printing process, dubbed HydroSkin.
"It gets the fans, players, coaches and boosters excited about their team," Gereb says of the designs. "It gives the team something new to promote and lets them kind of re-introduce the team to their fans."
With the rise of both gloss and matte, Gereb says the preferences are extremely team specific, but that the "matte finishes are still hot." The rise of the one-off looks also plays into recruiting, promotions such as "Wounded Warrior" or "Breast Cancer" games and memorabilia opportunities, as teams often auction the helmets after the game with the proceeds benefiting a charity.
To get from design concept to gameday look, sometimes schools approach Hydro Graphics, asking the company for "something cool" while staying within the confines of the team's current logo. In other cases, apparel companies give Hydro Graphics a design or concept and leave it up to Gereb's team to "figure out how to apply it to a helmet," such as the looks that Nike's design team commissioned for the Rutgers and Oregon helmets.
"This isn't always easy," he says. "We can not always use materials that are available for other industries. We are limited to materials that are compatible with helmet shells. Some materials are too aggressive and could weaken the plastic shell." And each design has the potential to require the development of a new process or technique.
Hydro Graphics says their process is the only system approved for use on football helmets in the NCAA because the designs don't distract from the integrity of the helmet, obviously a key component in player safety. The 3D-style printing process, dubbed HydroSkin, is water-based, using an automated processing arm in spray booths to liquidly apply the new designs.
With differing processes already in place, Gereb says to expect even further looks and designs—if they pass current testing—for next season. "I can not reveal the next best thing," he says, "but we are working on several new finishes."