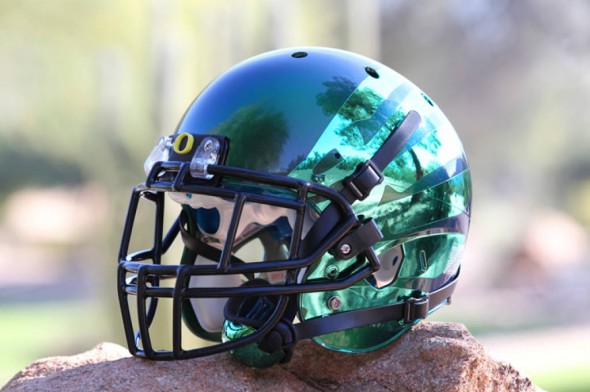 Admit it, you wanted there to be some more uniform news coming out of the University of Oregon at the start of the Fiesta Bowl. You know you did. And in true Oregon fashion—or do we mean true Nike fashion?—the Ducks didn't disappoint, even if the bulk of the "what-is-that?" portion of the uniform we actually saw a few weeks ago.
While relegated to the white jersey top (really, teams should be required to wear color vs. color whenever possible), that didn't limit Oregon's wildness, opting to use its silver-like shoulder-adorning duck feathers and numerals to show off the uniform's ability to change accent colors depending on the angle of the viewer and the amount of light hitting the jersey.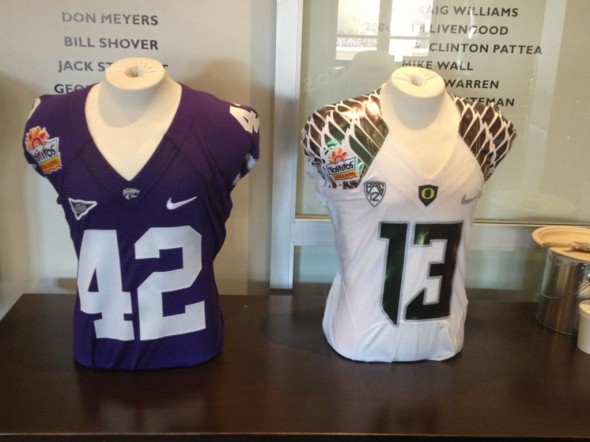 As fans grow accustomed to Oregon unveiling new looks for its BCS Bowl games—the Ducks debuted chrome helmets last year, which also changed colors in the California sunshine, that have become all the rage this year—tweaking the numerals and feathers was a surprise move that Oregon trotted out in the week leading up to the game.
By adding a new wrinkle to the uniform look, Oregon stays ahead of the rest of the mix-and-match schools out there.
To top the Fiesta look, Oregon chose a dark green helmet that fades to near black in the middle, all with some darkened duck wings. The Ducks opted for green pants to match the look. So view the a green-white/silver-green look, at least until the light hits it and shifts the colors all around.