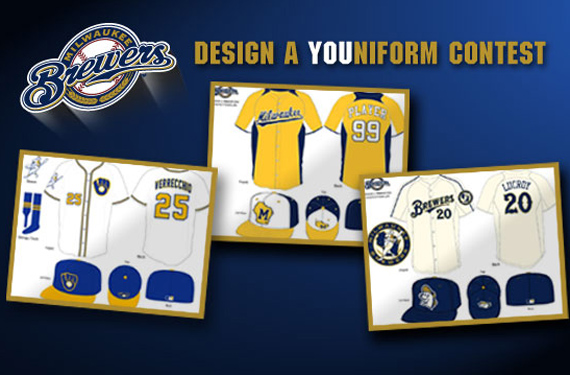 With the three finalists selected out of 700 entries in the Milwaukee Brewers "Design a YOUniform" contest, we'll have the results on Sunday, Jan. 27.
What started as a simple fan interaction project last fall turned into something much bigger, with the onslaught of submissions surprising even the Brewers and enticing them to extend the winning uniform from just a Spring Training game in Phoenix to an exhibition game in Milwaukee's home Miller Park two days before the regular-season opener.
The three finalists all have relatively different designs, albeit with a classic look attached to each of them.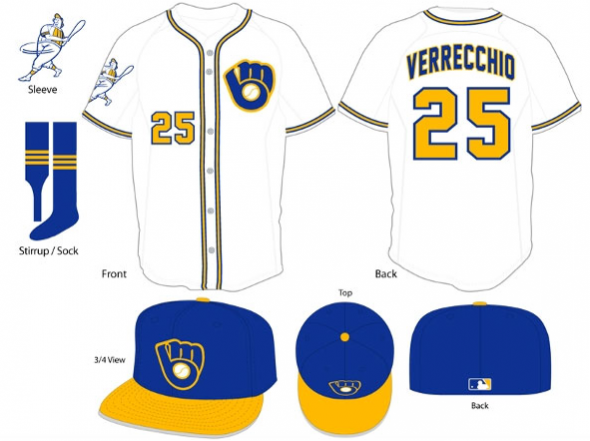 The tamest of the bunch comes from Ron Verrecchio of Catonsville, Md., who offers up a white top featuring the throwback Ball and Glove logo. That classic logo also adorns his blue and yellow cap. A second traditional Milwaukee logo, the Barrelman, plays prominently on the sleeve.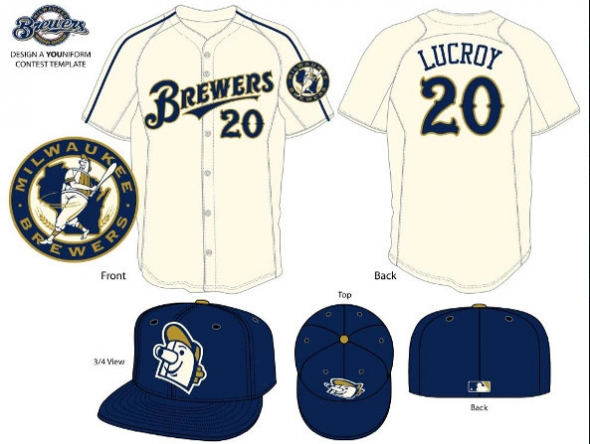 Finalist Ben Peters of Richfield, Minn., also places the Barrelman on the sleeve, but overtop a newly designed logo that features an outline of the state of Wisconsin and some barley. By pairing current team colors with a more old-school looking font, the uniform itself has a classic feel, even if the cap has a bit more character with the face of the Barrelman squarely adorning the blue lids.
Nicholas Fouts of Madison, Wisc., offers up a yellow uniform with blue lettering and blue piping. Where he gets the most playful is with a rarely used alternate logo from the 70s for the white, blue and yellow cap that features a blue "M" embedded in a yellow outline of the state of Wisconsin.
The Brewers have asked fans to vote on the best look by going to Brewers.com/uniform. They have until 10 a.m. CT on Jan. 22. Those votes count for one of eight that work to select the winner, which will be announced at Brewers On Deck on Jan. 27. Other judges include closer John Axford, general manager Doug Melvin, representatives from Majestic and New Era and Jill Aronoff, Brewers senior director of merchandise branding.
The design will first be worn on Friday, March 22, during a Spring Training game against the Cubs at Maryvale Baseball Park in Phoenix. The look will take to Miller Park on March 30 against the White Sox in an exhibition game two days before the regular-season home opener.
The winner will get airfare and tickets for two, plus $1,500 expenses, to attend the March 22 contest in Phoenix. Along with 10 T-shirts and hats with the winning design, the winner can choose a game-worn uniform and cap from any player the day his uniform was worn.
Merchandise featuring the winning design will also be available at the Brewers team stores in Phoenix and at Miller Park.