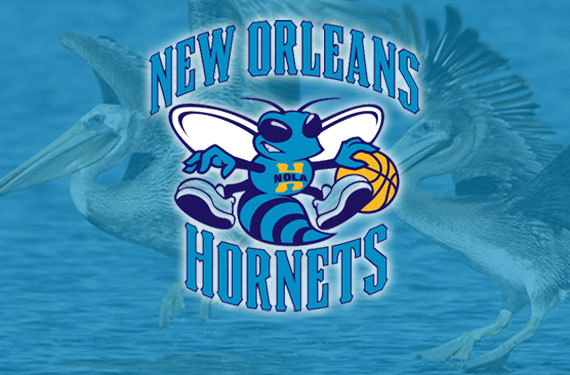 According to a Tweet from New Orleans Hornets Spanish-language broadcaster Emilio Peralta, the team will hold a press conference tomorrow afternoon at 4pm ET (3pm local time) to announce the team will be re-named the New Orleans Pelicans and also unveil the new logos and uniforms.
The now deleted tweet, translated from Spanish to English, read as follows:
"I just got out of meeting with Hornets-Saints: it's official. On Thursday announcing the name change and show logos, uniform. Hornets were called Pelicans. Announcement will be on Thursday at 3pm CT. Gov. Jindal will be present."
Peralta's Twitter account vanished shortly after his post started to make the rounds, a cached version of the page confirmed that the Twitter account did indeed belong to Peralta but was unfortunately from just before this Tweet was, um, Tweeted.  So we're relying on third-hand news for this one… but it seems plausible what with the suddenly vanishing account and all.
The New Orleans Hornets have been rumoured to be changing their name for years but talks had really picked up since Tom Benson purchased the club from the NBA.
Last month, the group that owns the Hornets registered several new team names with the United States Patent and Trademark Office, and yes, Pelicans was one of them… to be honest Pelicans is the only decent name of the lot:
New Orleans Pelicans
New Orleans Mosquitos
New Orleans Rougarou
New Orleans Bullsharks
New Orleans Swamp Dogs
Looking at domain registrations we learn that the domains pelicansbasketball.com and nolapelicans.com were both registered before all these other names, back on June 1, 2012 (neworleanspelicans.com was snatched up by a graphic designer who owns several other New Orleans related domains).
The additional names were all later registered six months later, on the same day as the USPTO trademarks were filed on December 5, 2012.  Every name has their ownership information blocked by the same domain privacy service, every domain registered for two years.  Visting any of the addresses will produce a standard GoDaddy.com parked domain page.
Also, not that this really means anything, but the NBA still owns CharlotteHornets.com.  Just throwing that bit of info out there.
We'll keep an eye out and see if anything else trickles in between now and tomorrow afternoon.
UPDATE! (1/23/13 11:45am ET): Thanks to James in the comments we see that hornets.com has a countdown up advertising a Big Announcement for tomorrow at 3pm CT.  Looks like this is happening folks.
—
Thanks to Gary Walker for the heads up and Hornets247 for catching that deleted tweet!