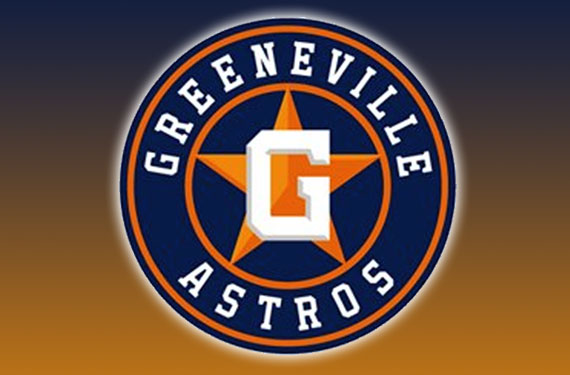 The Greeneville Astros, Appalachian League affiliates of the Houston Astros, unveiled their updated logo and uniform set to keep in line with the new look of the parent club.
It's a direct copy of the Houston set, the primary logo changed only to replace the H on the star with a "G" and the city name in the circle above the star.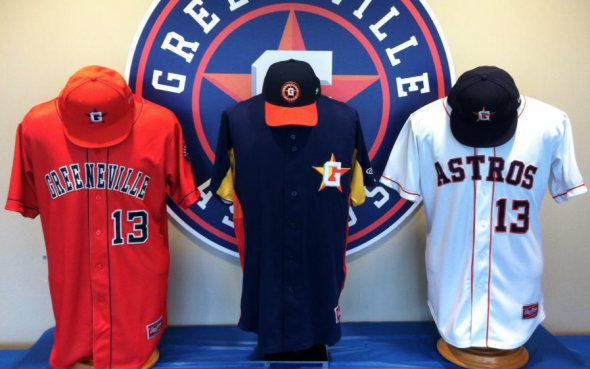 As for the uniforms they introduced three at the unveiling today…
At home it's the Houston Astros home jersey, white with "ASTROS" arched across the front – an all navy blue cap with the "G-Star" logo on the front.
For road games they are wearing an all-orange set (not the pants, they'll be grey), the jersey is modelled after Houston's home alternate jersey but reads "GREENEVILLE" instead of "ASTROS".  The cap is all orange with the "G-Star" logo on the front.
Also introduced was the batting practice uniform, which like the big league club has the rainbow striping up the side panels of the jersey.  The cap is navy blue with orange bill and has the actual full primary logo on the front.  Of note, the logo on the chest of the BP jersey appears to be slightly different than the Houston logo in that the left side of the star is yellow instead of a lighter orange.  We're not sure what the story on that is.
The team also announced today that (like the Houston Astros, again) they'll be bringing back an old mascot – "Tex" and "Tess" will be back on the dugouts and in the stands for 2013.
New logo merchandise is available for purchase as of right this second at the team shop at the ballpark, it will be made available online "shortly".