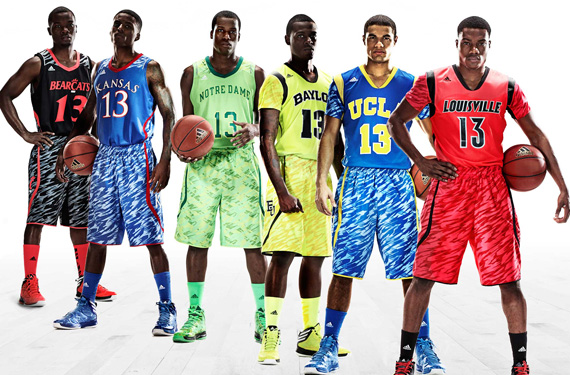 What adidas announced today might serve as the worst slate of college basketball uniforms to ever don a court (and here's to hoping they actually don't make it to the court this March as promised).
The "fruit snack" colors offered up for Baylor, UCLA, Louisville, Kansas, Cincinnati and Notre Dame were brazen enough, but adding in Zubaz print (i.e. "impact camo") in such a loud way took the uniforms from bold to downright silly. And laughable.
Three of the six uniforms—Baylor, UCLA and Louisville—feature sleeves in the same style we saw from the NBA's Golden State Warriors. The other three stay traditional (only in cut, not in color).
Teams plan to wear the new uniforms during the postseason, beginning with conference tournament play on March 13. For those interested, you can buy your own uniform on March 1.
In a press release, Chris McGuire, adidas director of sports marketing says, "The adizero uniform system gives players the leading performance technology with a distinctive on-court style. The NCAA postseason brings together the best teams in the country and these uniforms celebrate the excitement of the game letting players stand out during college basketball's biggest moments. These programs will wear the most innovative basketball uniforms and footwear to help them elevate their game during the most important time of the year."
The uniform technology features the same fabrics found in the NBA uniforms, with quick-drying features and ClimaCool zones. The sleeved uniforms are made from 60 percent recycled materials and offer 360-degree stretch fabric to promote free range of motion for the arms and shoulders, according to adidas.
The "limited edition" designs and colors feature the "impact camo" that adidas has been rolling out across a variety of its one-off products. They've just never done it quite this intensely.