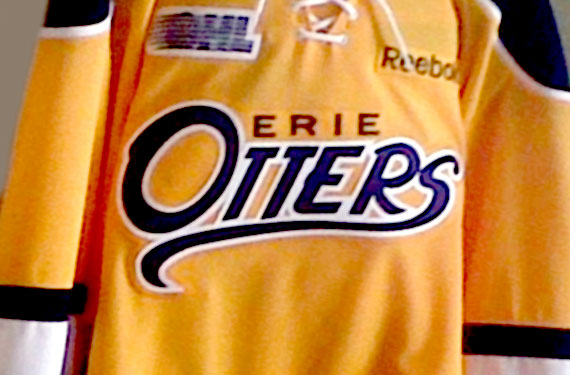 The Erie Otters closed out their 2012-13 Ontario Hockey League regular season campaign this past weekend by unveiling their new third jersey, set to debut when the Pennsylvania-based junior hockey club hits the ice for the 2013-14 season this September.
Not a lot of information was made available, aside from a fairly grainy photo the club Tweeted on Saturday.  From that photo we see the jersey is primarily yellow with blue and white trim along the shoulders, arms and waist – red, a prominent colour seen throughout the rest of their set is nowhere to be seen.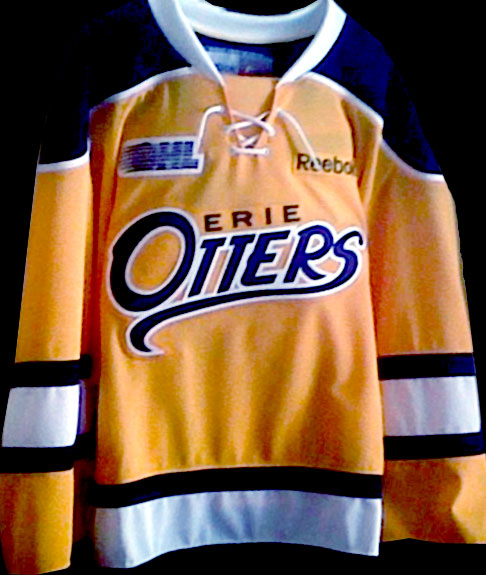 It's a refreshingly simple design following the last few years of unnecessary piping, missing waist stripes, and other Reebok design "innovations" we've seen throughout hockey.
The design does look very similar to that of the old Erie Blades, a pro hockey team that called Erie home from 1977-86 as a member of various leagues, including the American Hockey League for a brief spell.  Perhaps the team was digging into its city's hockey roots for the inspiration behind this one?  We'll let you be the judge: