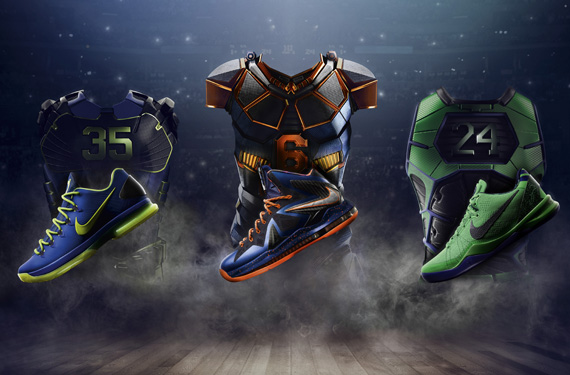 Superheroes. From uniforms to shoes, they're in. In a big way. While generally used to help define the ever-shifting look of football uniforms, Nike has embraced the superhero trend by rolling out three new signature basketball shoes, which we'll see on the feet of LeBron James, Kevin Durant and Kobe Bryant during the playoffs, that make clear that superhero visuals will stick with us as the latest trend.
Not only have the three shoes—which seemingly get a fresh version each month (think Christmas, All-Star, Easter, etc.)—offered up new bold visuals, but they also come complete with new materials. Including Kevlar.
As part of the superhero ideal, Nike wove a variety of armor-like materials—Kevlar aramid works into the flywire material that helps support the shoe, carbon fiber adds lightweight strength to the heel counter and articulated foam offers impact protection—through the new series of shoes. The technological advances move the signature line, dubbed the Elite Series, into the stats of a 2.0 line.
From a visual standpoint, Lebron's X PS Elite offers a bright citrus look and a graphic collar. There's ample amount of sharp lines, giving an edge to the shoe.
The Kobe 8 System Elite offers up a "poison green" base color with blue and black accents. That same green, complete with a graphical interpretation of what appears to be "x-ray vision" snakes near the heel counter in green certainly offers a different take from the color blocking we've come to expect from the Kobe engineered mesh uppers.
Durant's KD V Elite shoe goes low top for the first time in the line, a complete shift for the Thunder's star. The "volt" color (read: neon yellow in Nike speak) on top of the deep blue provides a simple, yet bold look for Durant, a bit out of the norm from the other KD V shoes we've seen recently.