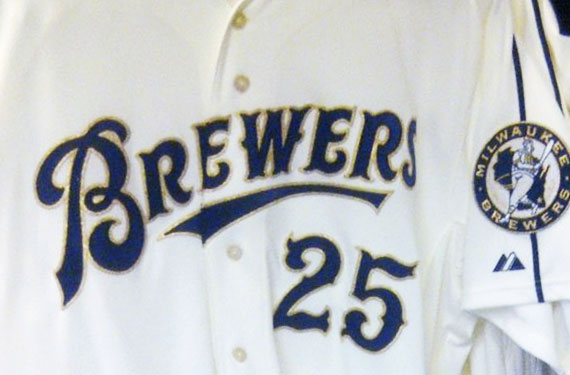 Earlier during this off-season the Milwaukee Brewers held a contest, one which allowed a fan the opportunity to design a uniform to be worn by the club during a Brewers' Spring Training contest.  That game was finally played this past Friday, a 4-1 loss to the Chicago Cubs at the Brewers' Spring complex in Phoenix.
The winning entry was designed by Ben Peters, a 53-year-old lifelong fan of the Minnesota Twins from Richfield, MN who actually found out about the contest via this article here on SportsLogos.Net back in November.  For his efforts Ben was awarded an expenses-paid trip down to the game in Arizona, a game-worn jersey of his design, 10 t-shirts and caps, and best of all – the opportunity many of us can only dream of, seeing a jersey concept out on the field in a big league game.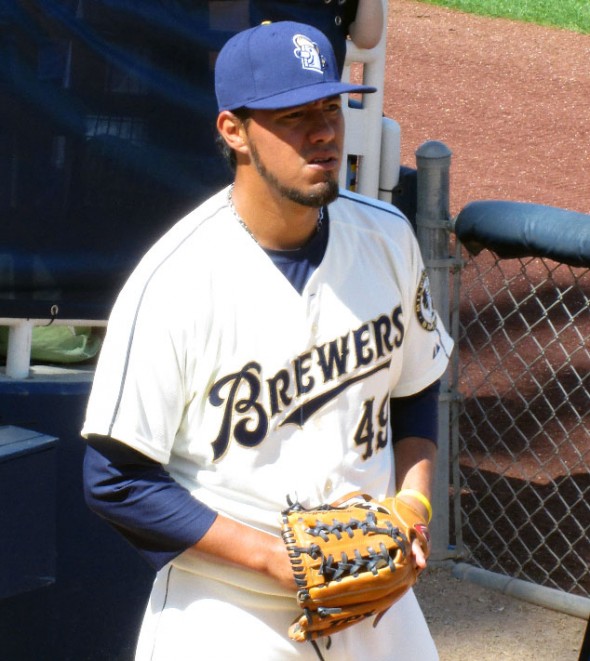 "Maybe the coolest moment was when I went over to the tunnel where the players come out and I saw a player wearing it for the first time", Peters told us in an email. "He was standing next to a line of minor league players and it looked he was showing it off and the minor leaguers were commenting on it, pointing to it, apparently digging it."
Thinking about myself in Ben's shoes, imagining seeing my uniform on a player in the tunnel like that for the first time sent shivers down my spine.  But, you know, I'm weird like that.
So, how did Ben put together his winning jersey design?
"I struggled with the design at first but then remembered an old logo from the early 1900's that I really like and that was the inspiration for the jersey front font.  I wasn't crazy about my original capital "B" design so I modeled a new one after another early jersey. I liked it a lot better. It seemed more classic and I liked the unique contrast of a slanted "B" with the other upright letters."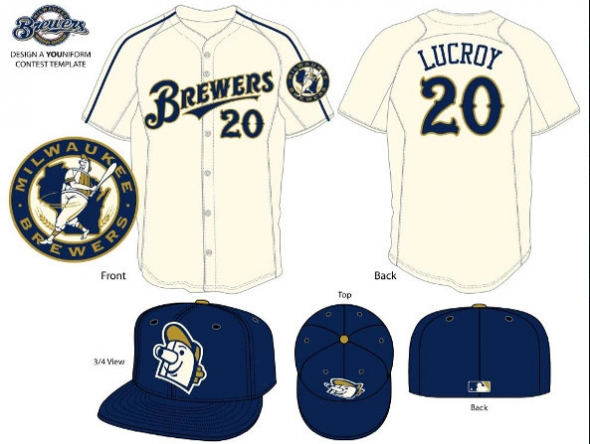 One design element that surprised many was the inclusion of the Beer Barrel Man, an icon originally used by the Brewers back during their days as a minor league ball club in the 1940s;
"I pretty much knew there would be a lot of ball-in-glove submissions so I thought I'd have a better chance if I did something that stood out from that. The Barrel Man was a great classic logo, and probably underutilized, so I knew he'd make a great sleeve patch. Luckily, his tilting body fit in perfectly with state outline of Wisconsin."
Milwaukee would bring the Beer Barrel Man up with them from the Minors to the Majors in 1970 before he was replaced with that aforementioned ball-in-glove logo following the 1977 season.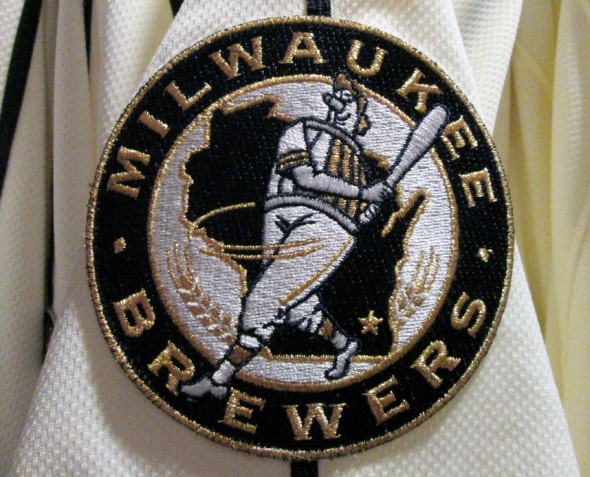 Reaction to the jersey itself has been fairly positive, however the cap has had it's fair share of critics.  In addition to some online detractors, Brewers manager Ron Roenicke and Chicago Cubs WGN play-by-play man Len Kasper both "weren't so sure" about the cap (although both were big fans of the jersey).
"As long as more people love the cap than would have loved a 'normal' cap logo, it doesn't matter how many don't love it!  My first design for the cap was an interlocking MB, modeled after my favourite cap logo, the interlocking KC of the Kansas City A's.  But as much as I liked it, and knew it would probably be good and safe, I also felt like I should do something more unique. It was a risk (adding the Barrel Man head to the cap) but I also knew it would be fun, like the smiling Oriole. I was aware only fans who knew the history would get it so I crossed my fingers and hoped that would be enough. Apparently it was."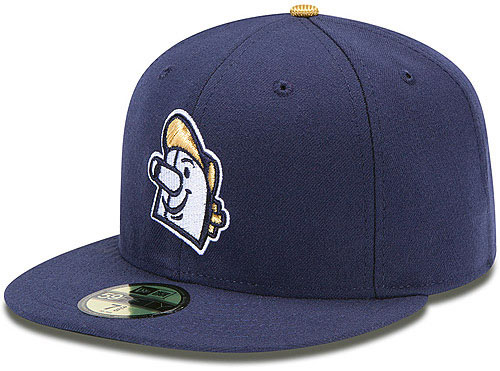 But of course, we shouldn't let the anti-Barrel head cap crowd spoil what is, overall, an excellent look, one which I could easily see the Brewers transitioning over to at some point in the future.
"It's very fun to read posts, many from SportsLogos.Net, that suggest that they would like to see the jersey worn for some regular season games. I especially like the posts that suggest it should be the permanent look for the Brewers! I'm for it!"
The Milwaukee Brewers will be donning Ben's uniform design one more time, this Saturday for a pre-season game up in Milwaukee, giving the hometown crowd a chance to see it in person.  Ben will be making the 5-hour trek from Richfield to get a second look, but first in a big league stadium.  Hard to blame him for not missing that chance.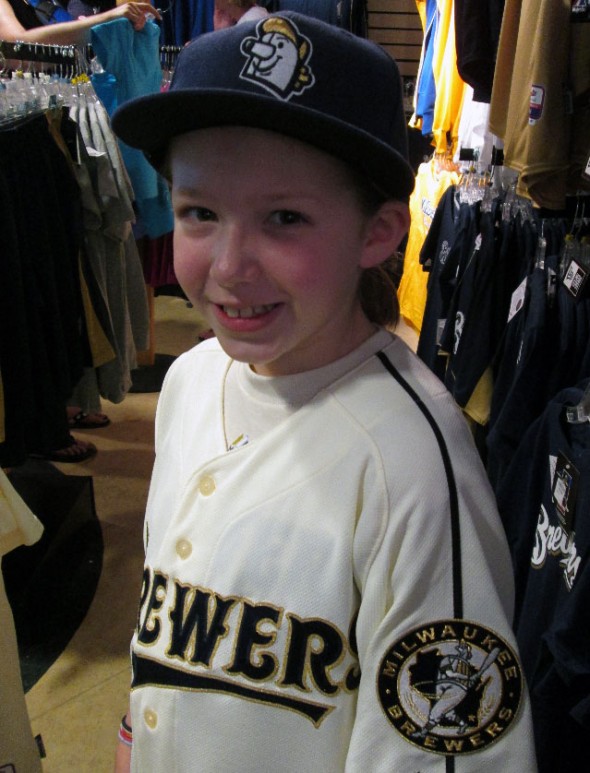 "It was all just a thrill. I took my 10 year-old daughter Kimberly (to the game in Phoenix) and she seems very impressed. I think I can never be 'uncool' in her eyes now, even when she hits her teen years!"
Quite a feat! That might be the best prize of them all.
"I want to thank the Milwaukee Brewers for everything they did… they made it a highlight of my life."
You can really show your support for Ben's designs as they're now available for sale on the Milwaukee Brewers online shop, you can purchase the jersey here or the cap here.
To finish this up some photos of the players in the uniform from the game: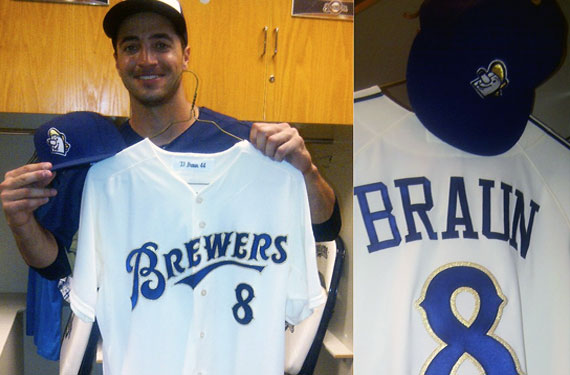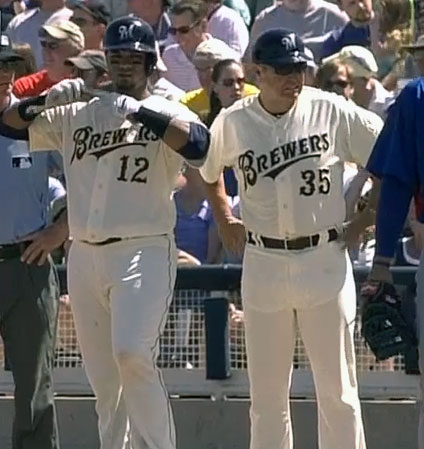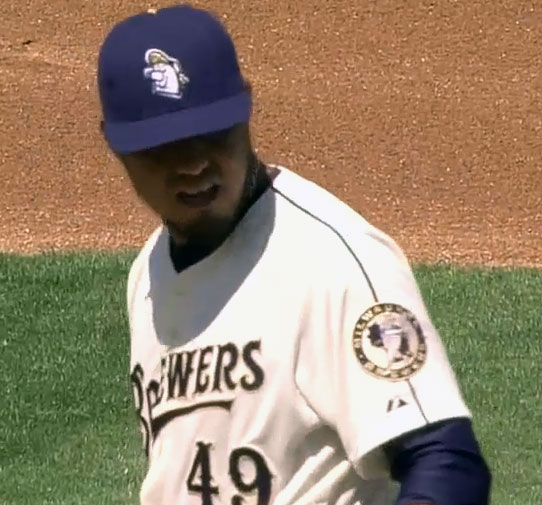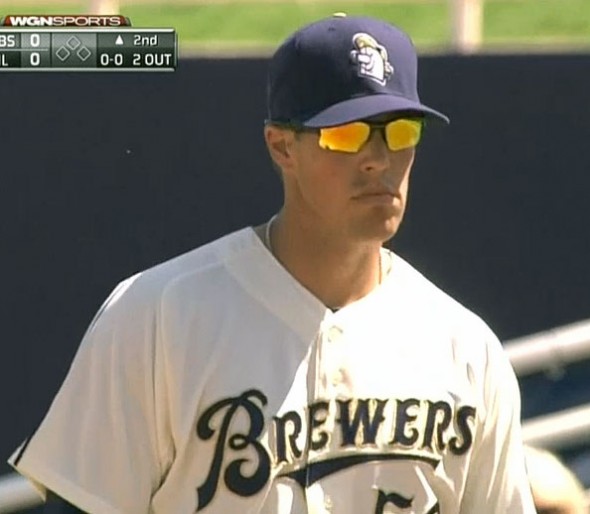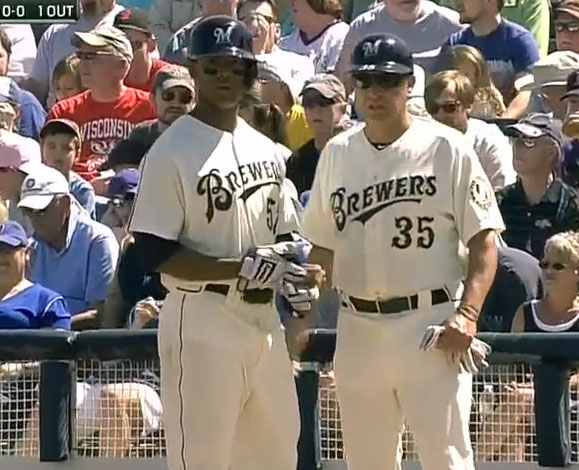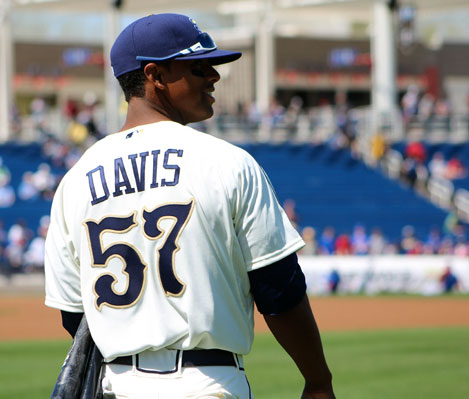 We'd like to thank Ben for taking time to talk with us about this as well as sharing his photos from the game!