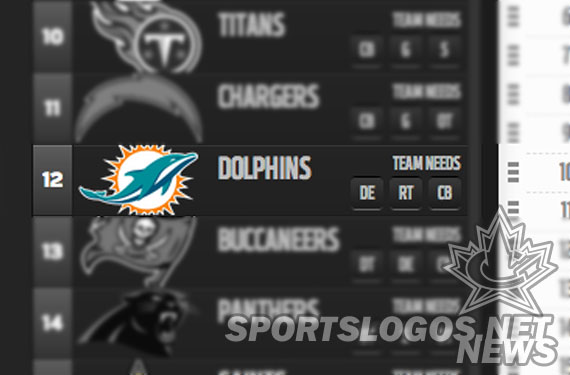 NFL.com may have joined the club of those prematurely spoiling the unveiling of the new Miami Dolphins logo… So… is it fair to say our confirmation that it was legit last week was spot on?
On their NFL.com Predict the Pick draft feature the new Dolphins logo shows up amongst the list of teams making first round picks in next months NFL Draft and sure enough, it's the one we posted about on Friday: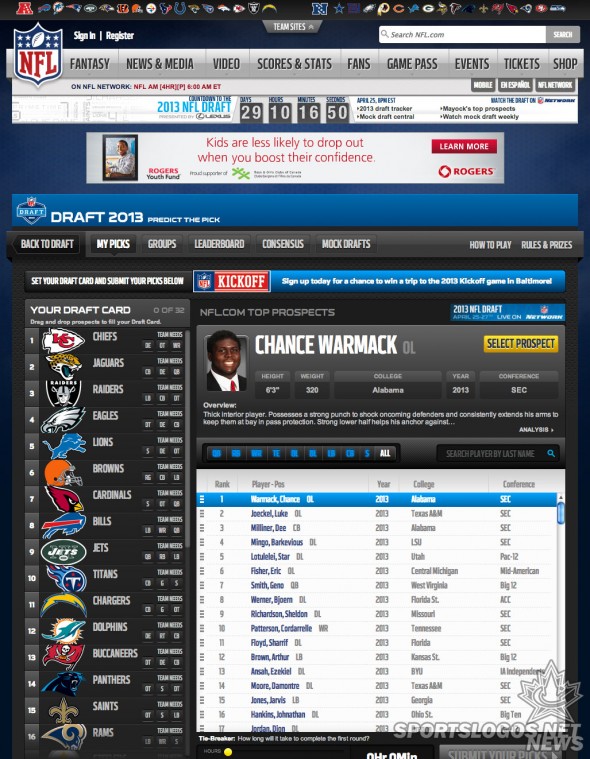 Click here to see it on their site yourself (before they likely replace it with the old/current logo).
While that screen only shows you a portion of the logo, you can see the full logo by simply right-clicking the image and choosing to Open Image – leading you to this graphic, which we've enlarged slightly: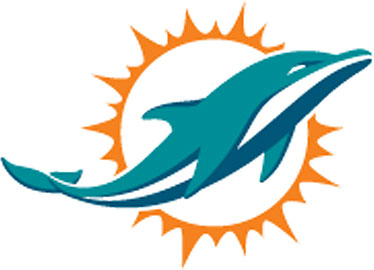 Or you can see it for yourself on their server by clicking here.
Miami is expected to unveil the new logo and uniforms officially on April 18th.
UPDATE (Mar 27/13 11:17am ET): NFL.com has removed the logo from the aforementioned draft page, now a blank spot shows in its place: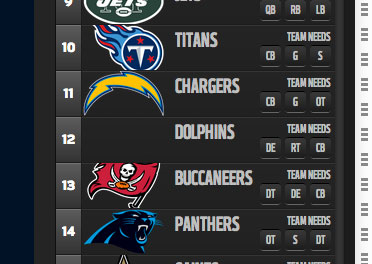 UPDATE (Mar 28/13 8:03am ET): The Miami Dolphins have confirmed that the logo that appeared on NFL.com earlier yesterday is their new logo, an article was added to NFL.com to announce this.  Miami is now using the new logo as their Twitter avatar and all over their official website.  Official unveiling date is now set for April 25th when the club will unveil all their new logos as well as the new uniforms.
Some quotes from team CEO Mike Dee about the logo from that NFL.com article:
"It was leaked by somebody at Nike. We had always had a plan to kind of roll it out over a 30-day period, so we're going to start rolling it out. But the logo is only one part of the announcement. It's a complete re-branding of the team."

"There's a lot of history in this in that we went back to colors, the true aqua and the true orange that were part of the first 29 years of the franchise's history, but the logo design itself and some other things you'll see respect that tradition in the past but also have an eye on the 21st century Dolphins."