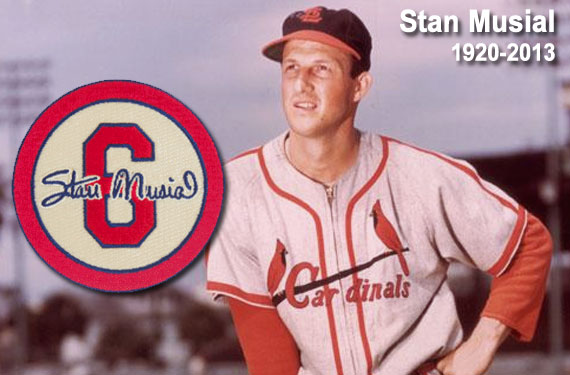 The St. Louis Cardinals will honour the memory of Stan Musial, easily the greatest player in the history of their franchise, who died in January at the age of 92.
Unlike most memorial patches Stan's memorial will not feature any traces of black, Cardinals team president Bill DeWitt III explained the reasons:
"Not that it wouldn't have been appropriate, but we felt it should be colors that were more a celebration of a life."
There will be three versions of the patch, one worn for each team jersey – home, road, and the new for 2013 cream home alternate.  The only difference being the colour of the inside of the circle changes to that of the base colour of the jersey it's being worn on.

The Musial memorial patch will be worn on the left sleeve of the Cardinals uniforms throughout the entire 2013 season as well as appear on scorecards and stadium signage.  It will make it's on-field debut on the road this Monday against the Arizona Diamondbacks.
Musial played in more Major League All-Star Games than he played Major League seasons appearing 24-times in the mid-season classic during his 22-season big league career (all with St. Louis).  He finished with a .331 batting average with 3,630 base hits, 475 of those for home runs from 1941-1963.